PLASTIC VALVES AND FITTINGS
ERA  Valves,  PVC UNION , UU001, PN10 (F1970), NSF-pw & UPC     
Unions are compatible with PVC piping system.
Applications include:  general service, commercial plumbing, irrigation, swimming pools & water parks and aquariums.
Scope:  This system is intended for pressure applications where the operating temperature will not exceed 140°F, and work pressure is 1.0 MPa (PN10)
Specification:  PVC unions shall be manufactured from virgid PVC(polyvinyl chloride) vinyl compounds.
Like couplings, PVC unions fit two pipes together. Unlike couplings, however, unions are designed to be a semi-permanent solution. These can easily be removed and replaced as needed, because they require no adhesive. This makes them the best choice when contractors are creating systems that may need to be changed or updated at a later date, or when creating systems that need to be regularly taken apart, either to move them or to inspect them.
Specification:
| | | | |
| --- | --- | --- | --- |
| Model Number | UU001 | Material | PVC |
| Description | PVC UNION | Size | 15-150MM |
| Standard | IOS9393-1:2004 | Color | SPECIFIED |
| Brand | ERA | Temperature | Max 60°C / 140°F |
| Connection | Socket OR THREAD | Certificate | NSF/UPC |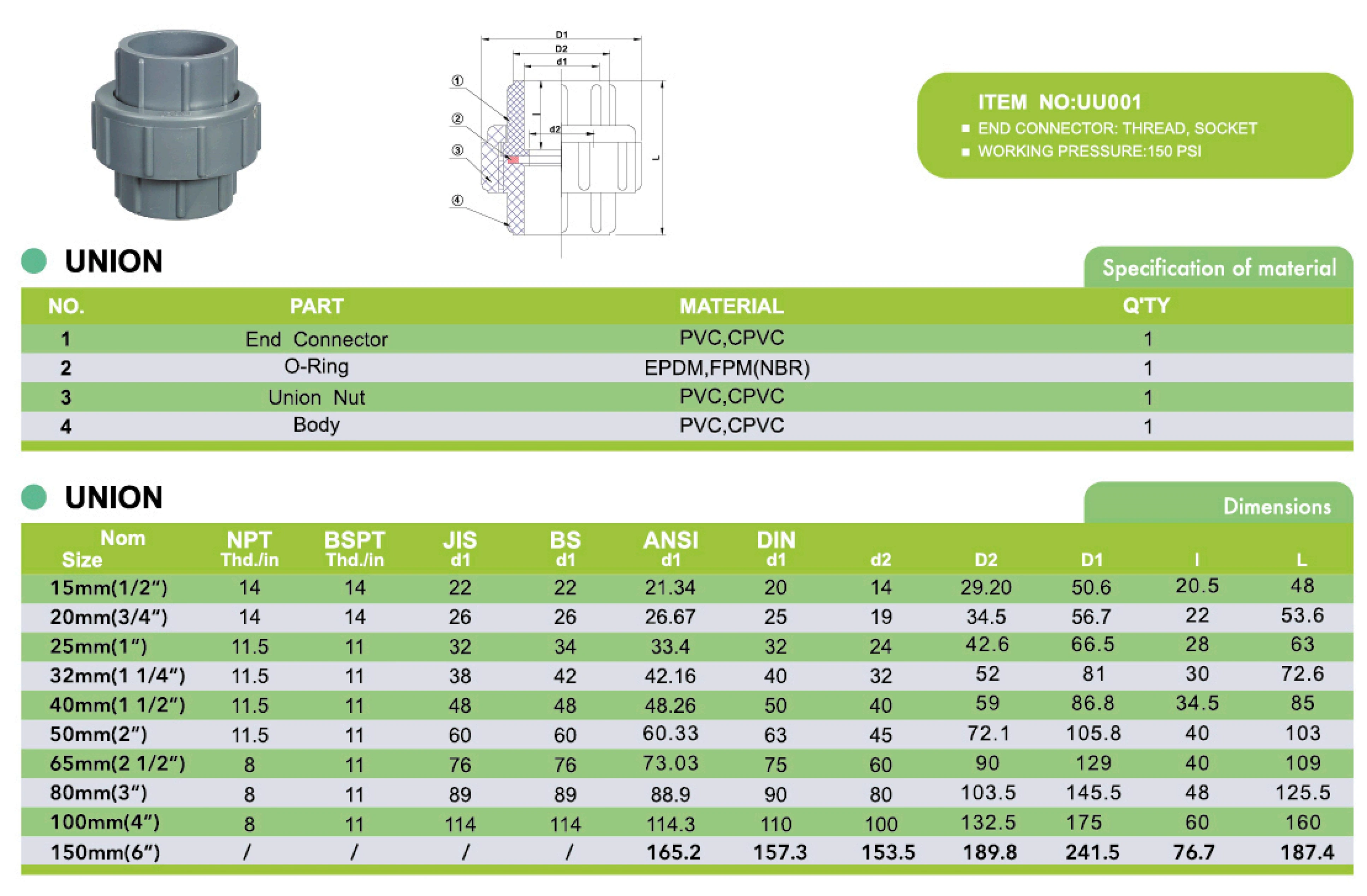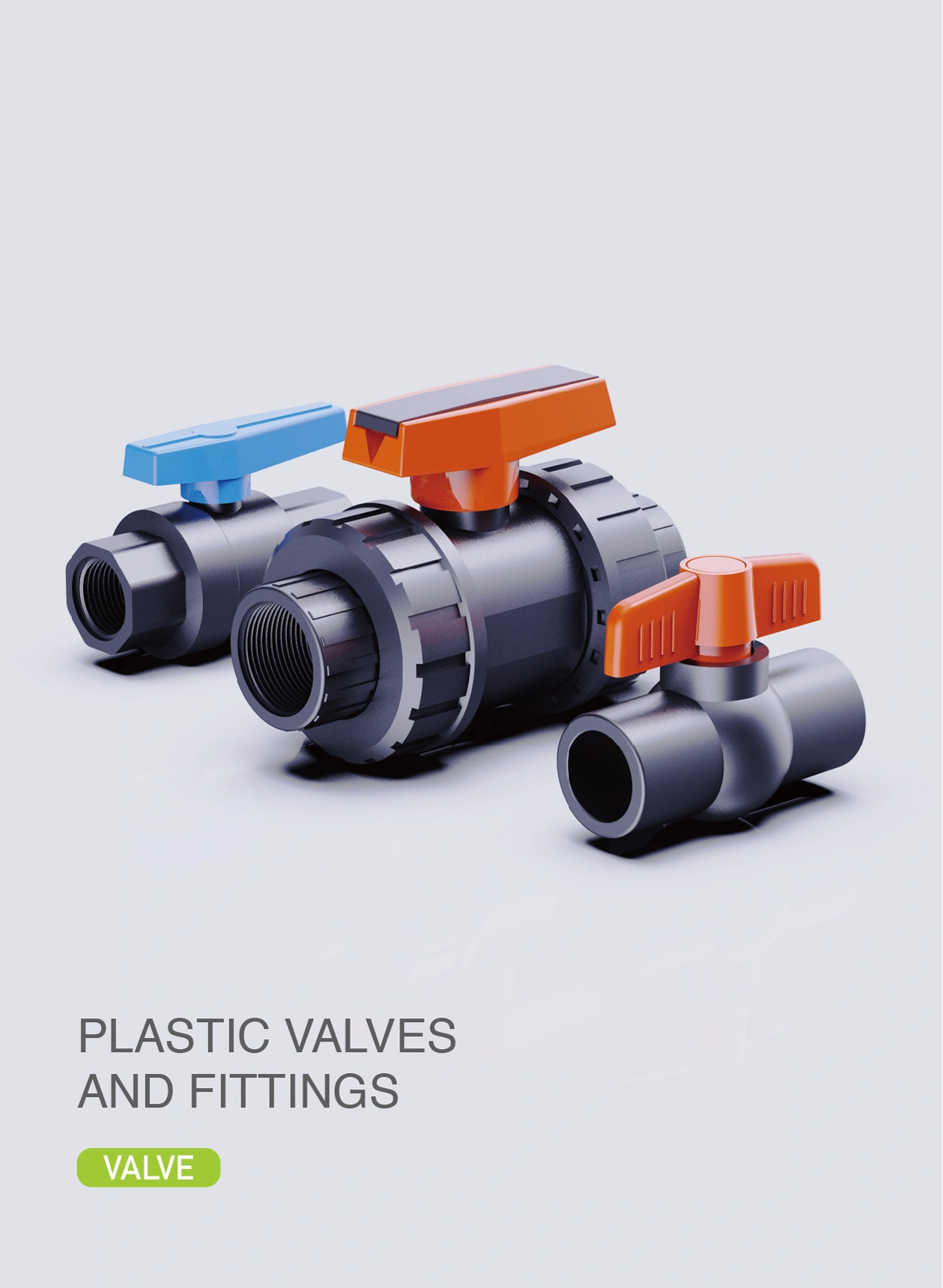 Main Products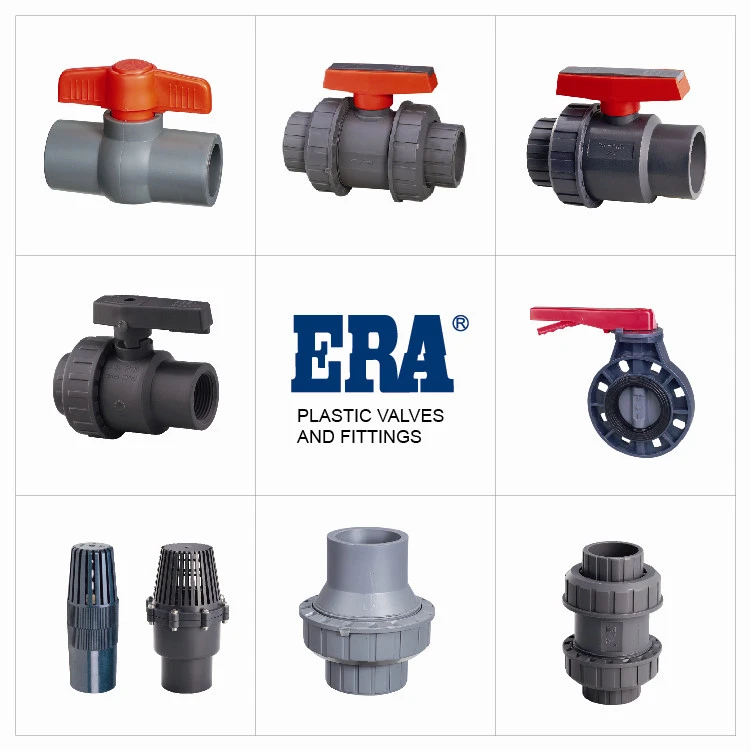 In addition to PVC plastic ball valve material, there are PPR, PVDF, PPH, CPVC and so on. PVC ball valve has excellent corrosion resistance. The sealing ring is F4. Excellent corrosion resistance, prolong service life. Flexible rotation, easy to use. PVC ball valve as integral ball valve leakage point less, high strength, connected ball valve convenient installation and disassembly. Ball valve installation and use: when both ends of the flange and the pipeline connection, to evenly tighten the bolts to prevent flange deformation caused by leakage. Turn the handle clockwise to close, vice versa to open. Can only be used for flow, flow, not flow regulation. Liquid containing hard particles is easy to scratch the surface of the ball.