CPVC DIN PIPES AND FITTINGS
ERA Piping Systems, CPVC Pipe Fitting, THREDED SHORT REDUCER, CP016, (DIN STANDARD), CE
System:  
CPVC DIN 8049 Hot and Cold Domestic Water Distribution
CPVC is used for higher temperature applications than PVC, especially for handling hot corrosive liquids. With similar chemical and corrosion resistance to PVC. Increased chlorine content gives CPVC superior thermal resistance. CPVC is not recommended for use with chlorinated or aromatic hydrocarbons, esters, or polar solvents such as ketones. ERA CPVC materials conform to ASTM Cell Classification 23447-B (formerly designated as Type IV, Grade 1). The maximum recommended service temperature of CPVC products is 93°C (200°F).
Characterized by unique thermal, physical and mechanical properties CPVC is desirable for piping applications which require high temperature rating, high impact resistance and fire resistance. Manufactured to various international ASTM / DIN standards our high pressure CPVC pipes and fittings are widely used in many fileds.
The ERA brand CPVC fittings is ideally suited for hot and cold water pressure distribution systems in residential and commercial applications.
Scope:  
ERA BRAND PVC-C has been designed for enhanced chemical resistance and exceptional temperature stability. Metric PVC-C systems are in use wherever aggressive media such as mixed acid waste or alkalis at a high temperature are transported.
For hot and cold water applications
Used to join straight lengths of CPVC tubing
Specification:
PVC-C has an operational temperature range of 0°C - 80°C (32°F - 176°F), which is suitable for high temperature environments. The excellent mechanical characteristics, high tensile strength, stiffness, and impact strength are evident even at increased temperatures.
Metric Chlorinated Polyvinyl Chloride is corrosion-resistant, has a long service life in an aggressive and/or corrosive environment, and a high safety factor.
Referenced Standards: DIN 8079 CPVC Plastic Hot and Cold Water Distribution System.
Fields of application:
Irrigation networks – sprinkler piping and manicipal projects.
Transport of wide range of chemicals and corrosive fluids in the industry.
Hot Tags: cpvc fittings threded short reducer, China, manufacturers, suppliers, factory
Referenced Standards:
DIN standard
Specification:
| | | | |
| --- | --- | --- | --- |
| Model Number | CP016 | Material | CPVC |
| Description | THREADED SHORT REDUCER | Size | 25x1/2'' |
| Standard | DIN8079 | Color | Ivory color |
| Working Pressure | PN16,16 Bar,1.6Mpa | Temperature | Max 82.2℃  / 180°F |
| Connection | Socket or Thread | Certificate | CE |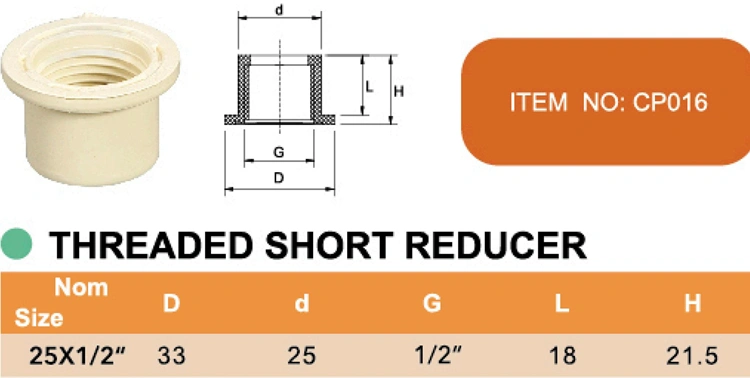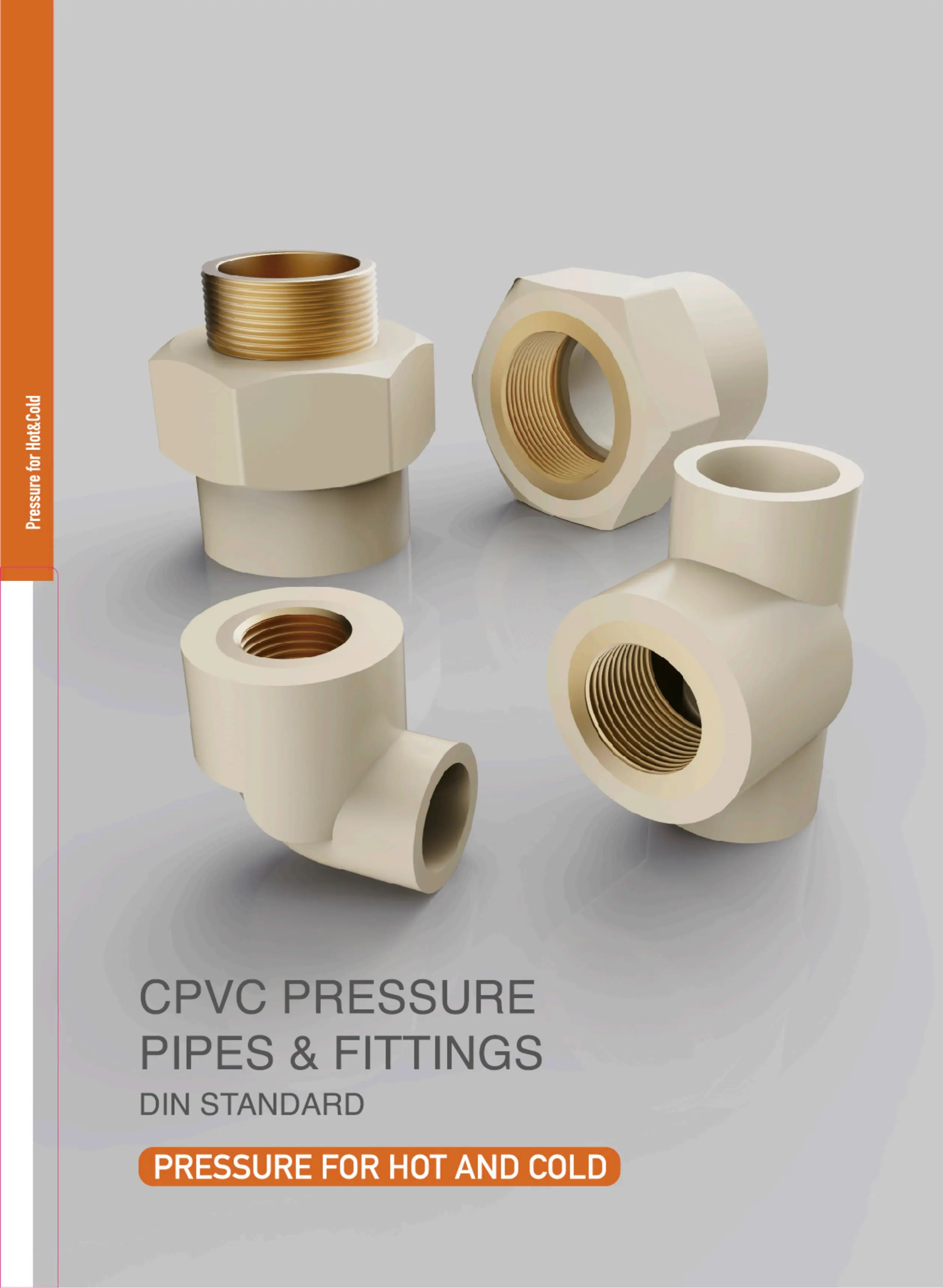 Main Products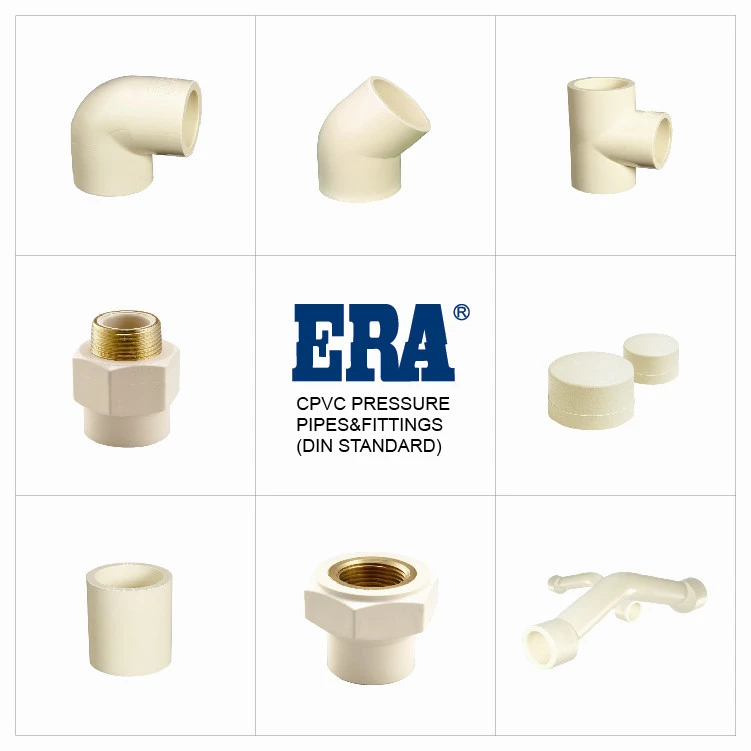 Company introduction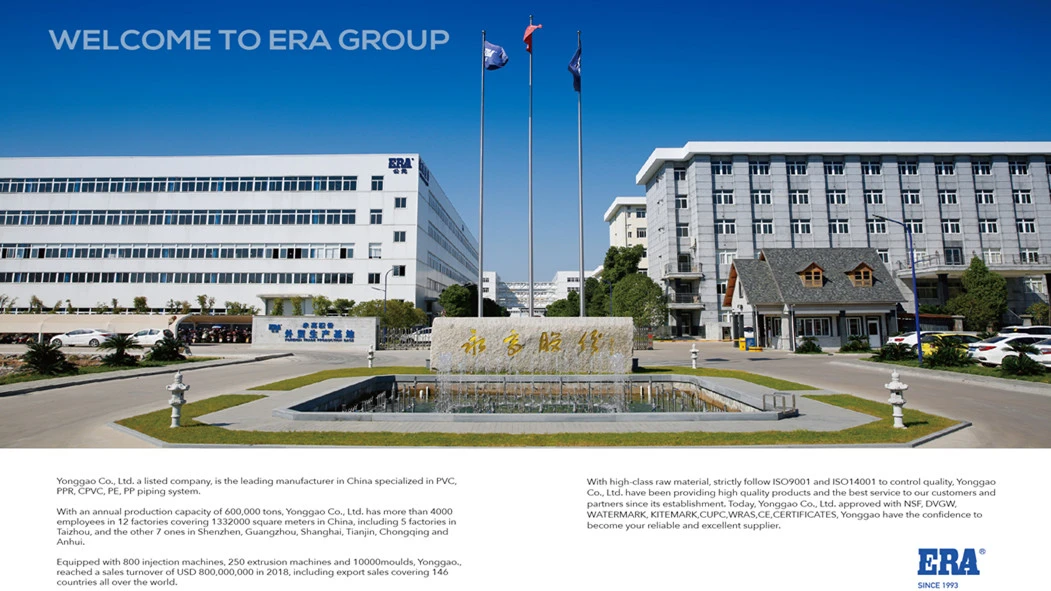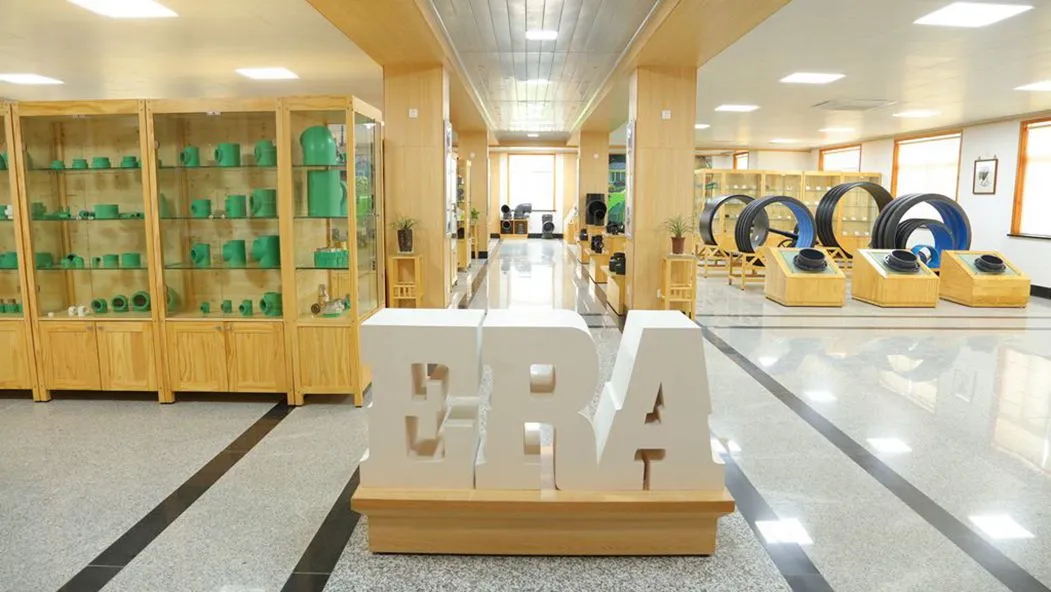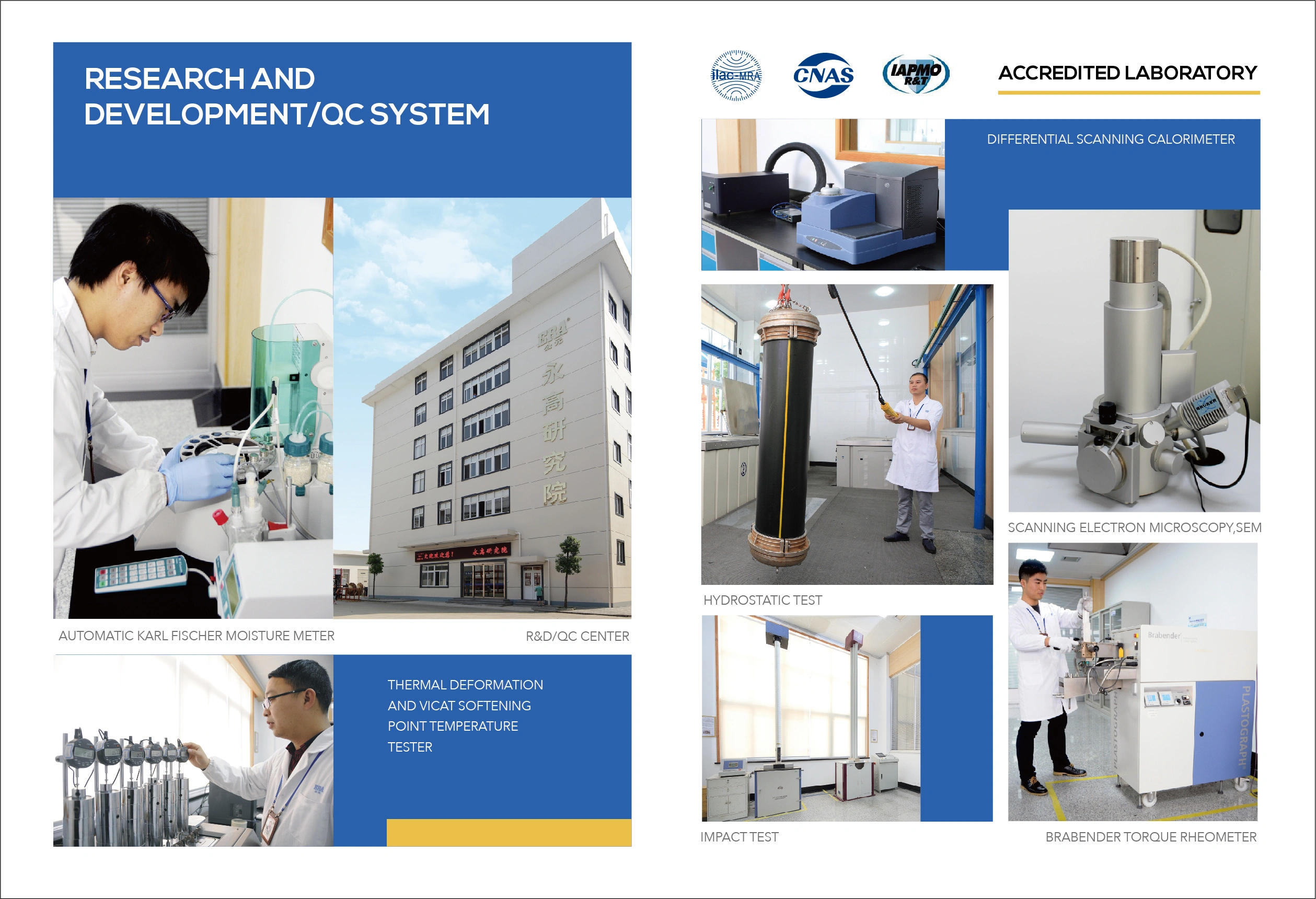 Certificate exhibition