PVC DRAINAGE FITTINGS
ERA Piping Systems, PVC Sanitary Solvent Cement, REDUCING BUSH, UDLR01, (ISO3633), CE
PVC is lightweight and easy to install. They require no special tools for cutting, and be installed with solvent cementing, threading, flanging, and roll-grooved joining.
Scope:  This specification covers PVC Sanitary Solvent Cement for Drainage applications. This system is Intended for drainage applications where the operating temperature will not exceed 140°F.
It is widely used in civil construction, drainage sewage, chemical drainage&sewage, rainwater and other fields.
Solvent Weld Fittings include tees, elbows, adapters, repair couplings, and reducer couplings manufactured from durable PVC
Research Institute
1. CNAS ISO 17025 ACCREDITED LAB, be able to issue test report on Chinese standard with CANAS.
2. IAPMO RESEARCH AND TEST ,INC. ACCREDITED LAB , accredited to issue test reports on Standards:  ASTM D2466, ASTM D2665, ASTM D2846, ASTM F439, ASTM F1970. 
3. Introducing IPT -- Hydrastatic test machine from Germany, capable of 20-95 ℃, 0.5-115 bar hydrostatic test, which almost cover all standards' hydrostatic test requirements.
4. Built as per GB/ ISO9001 standard, control quality from the raw material.
Fields of application: 
Piping networks for drainage in building.
Specification:
| | | | |
| --- | --- | --- | --- |
| Model Number | UDLR01 | Material | PVC |
| Description | PVC DRAINAGE FITTINGS REDUCING BUSH | Size | 40x32-200x110MM |
| Standard | ISO3633 | Color | Grey |
| Working Pressure | PN10 10Bar,1.0Mpa | Temperature | Max 60°C / 140°F |
| Connection | Solvent Cement | Certificate | CE |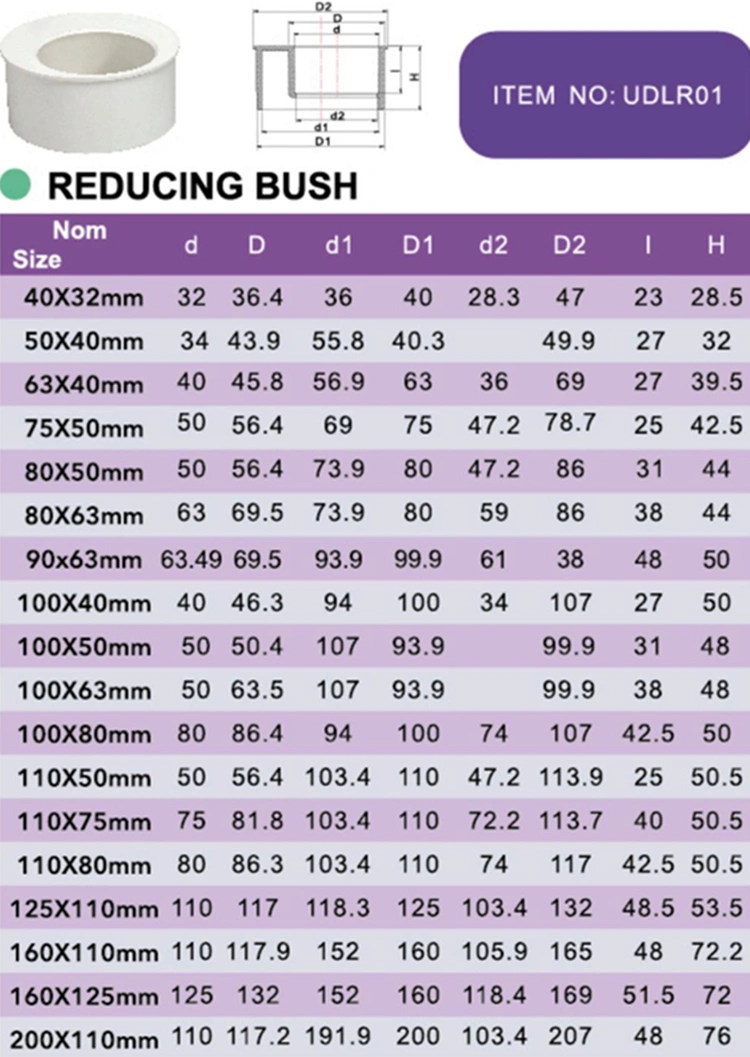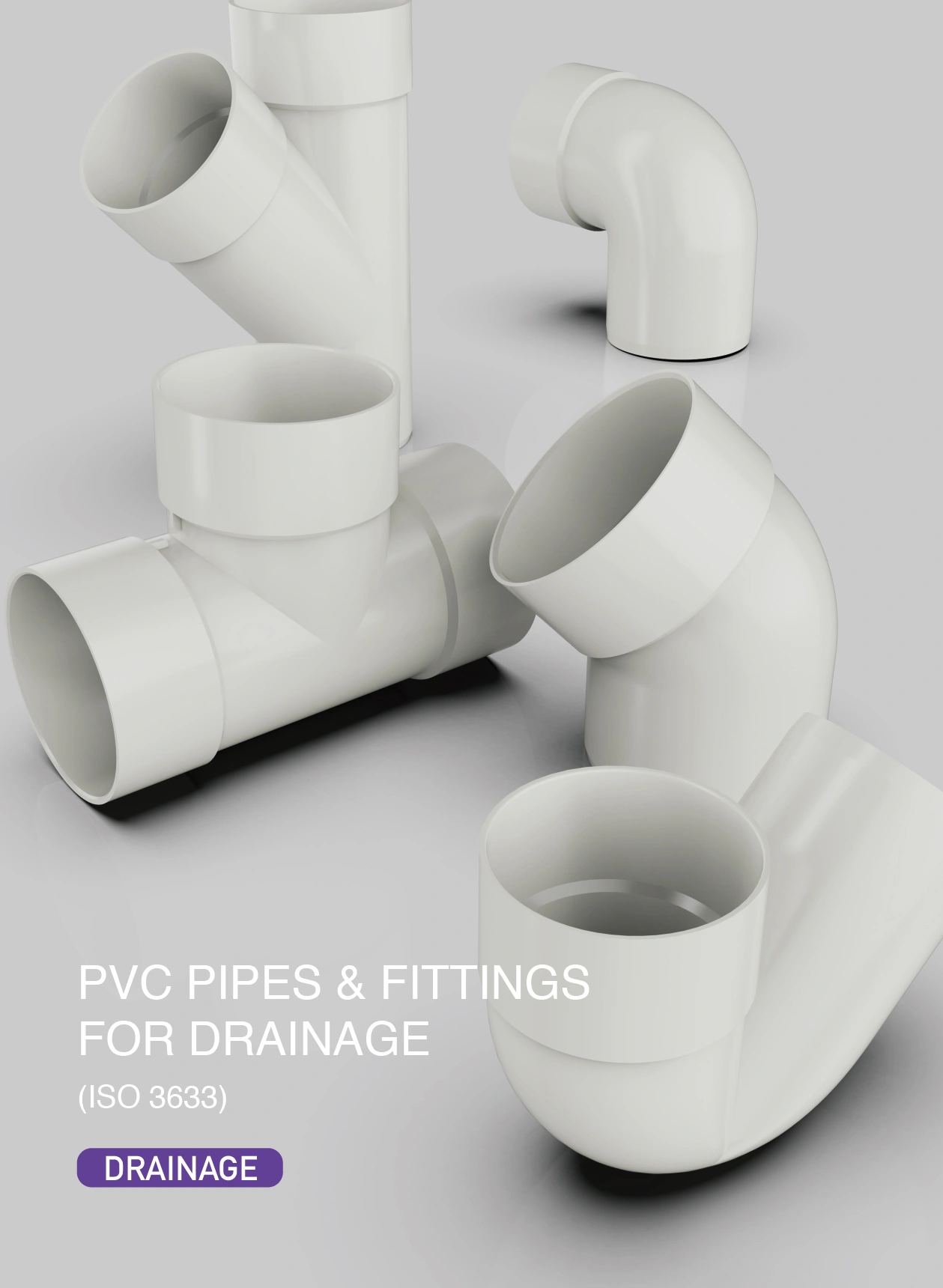 Main Products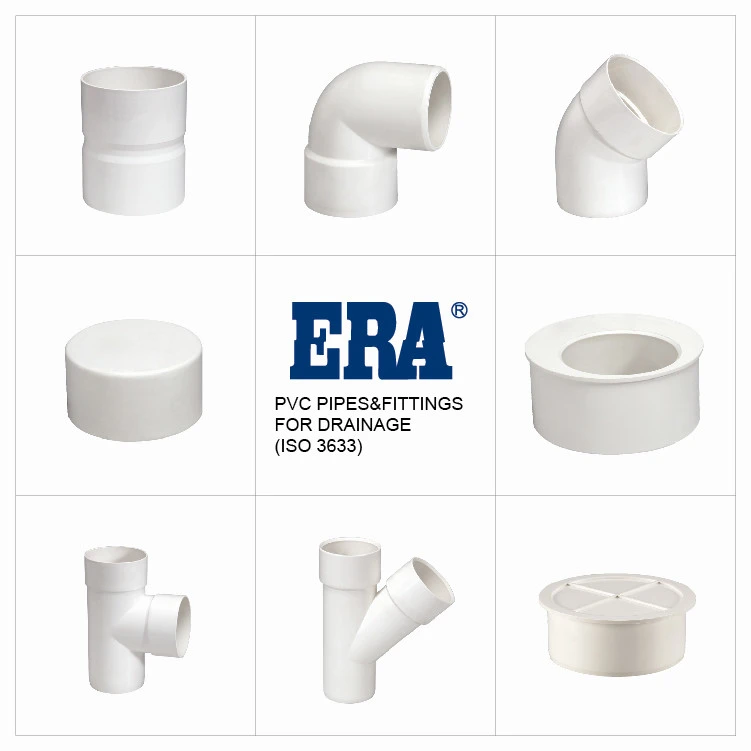 Company introduction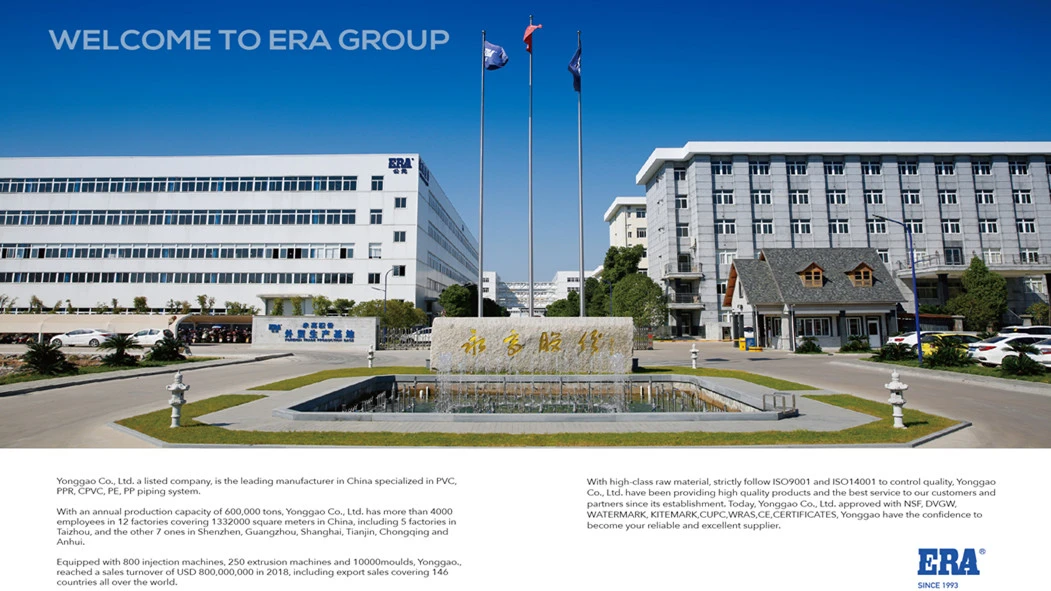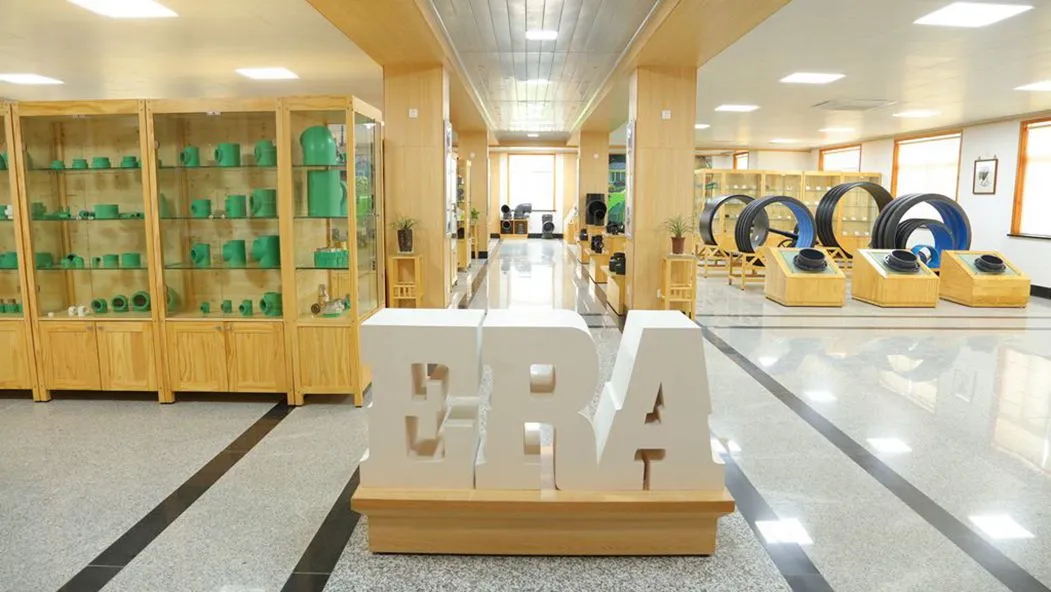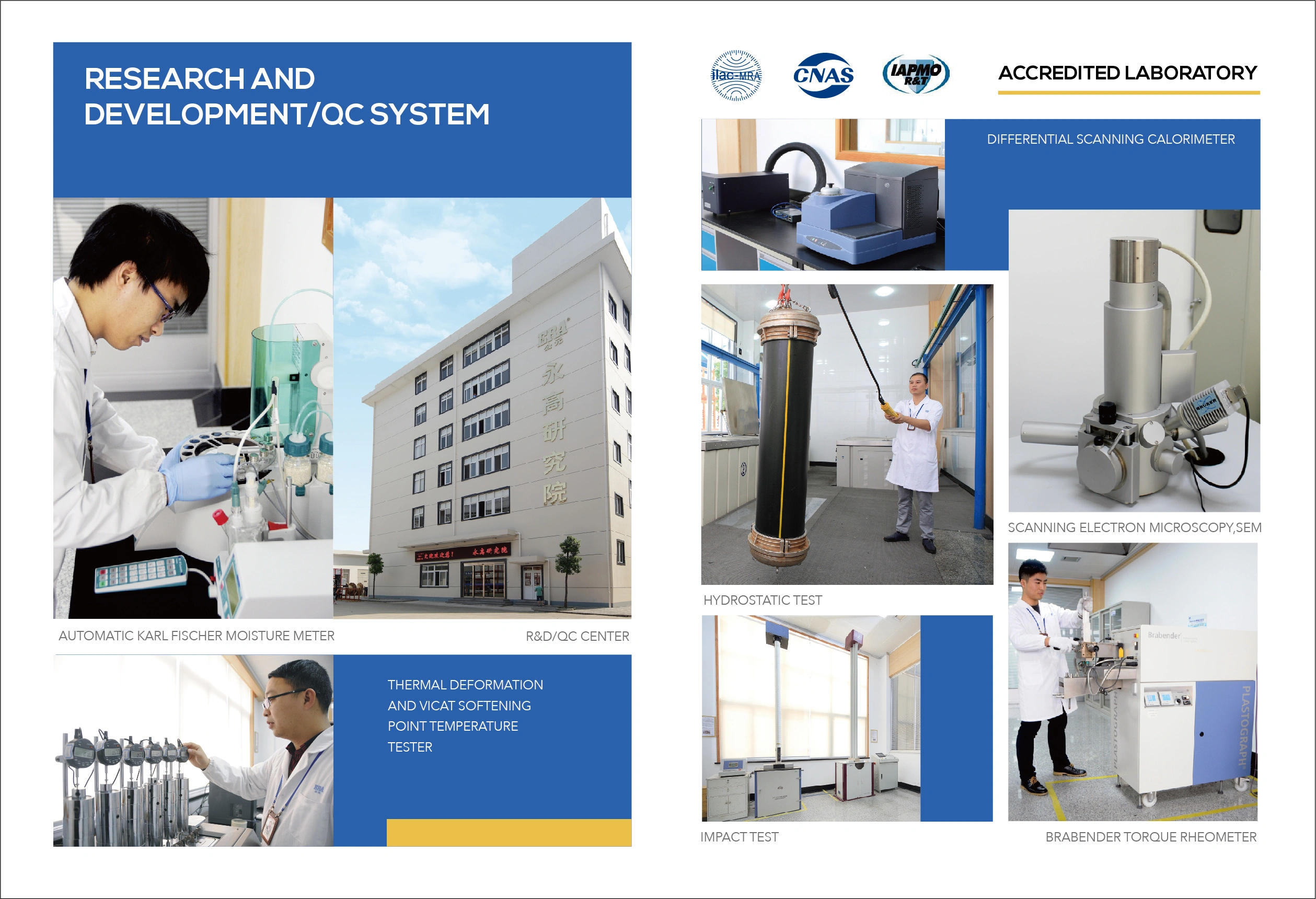 Certificate exhibition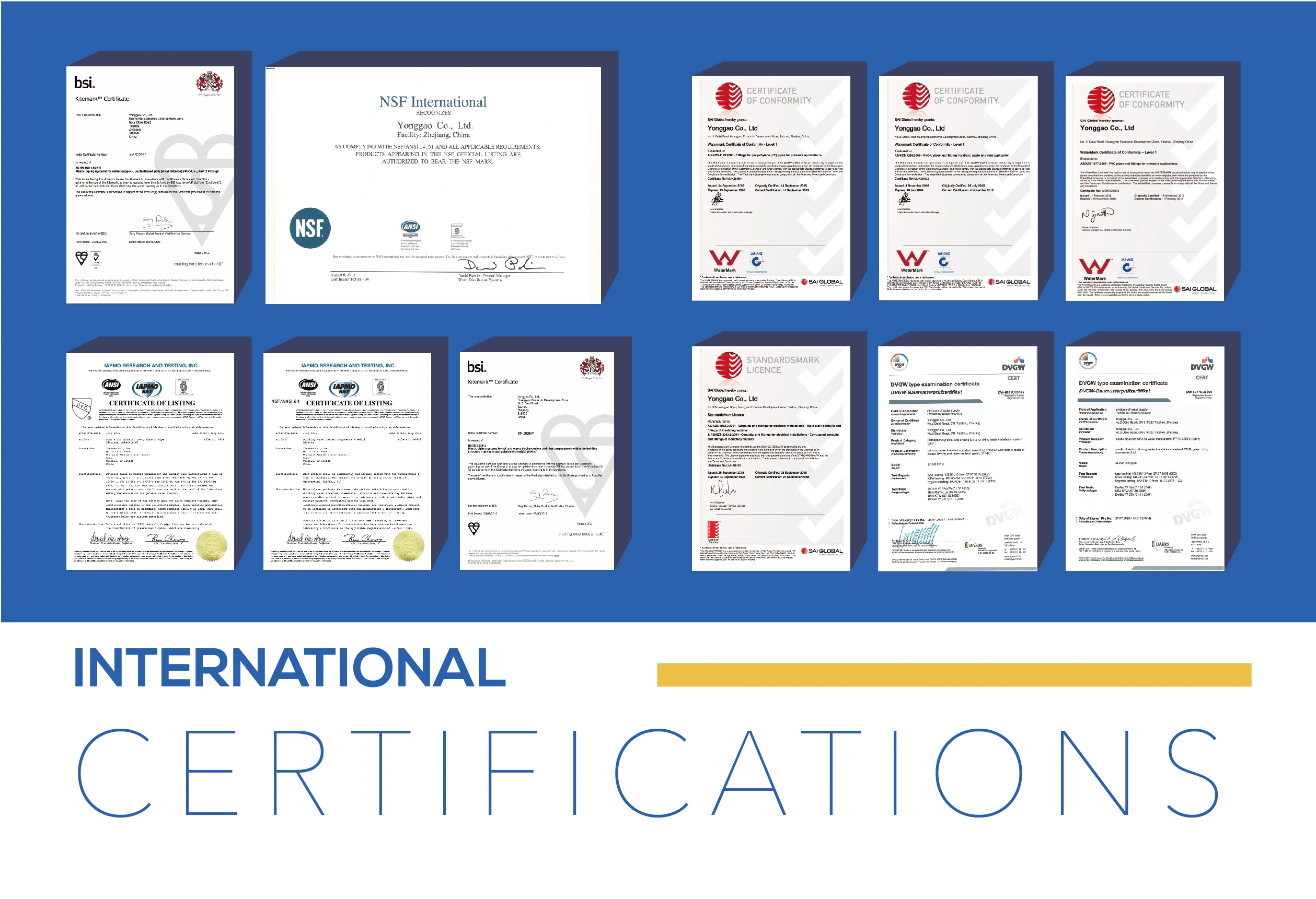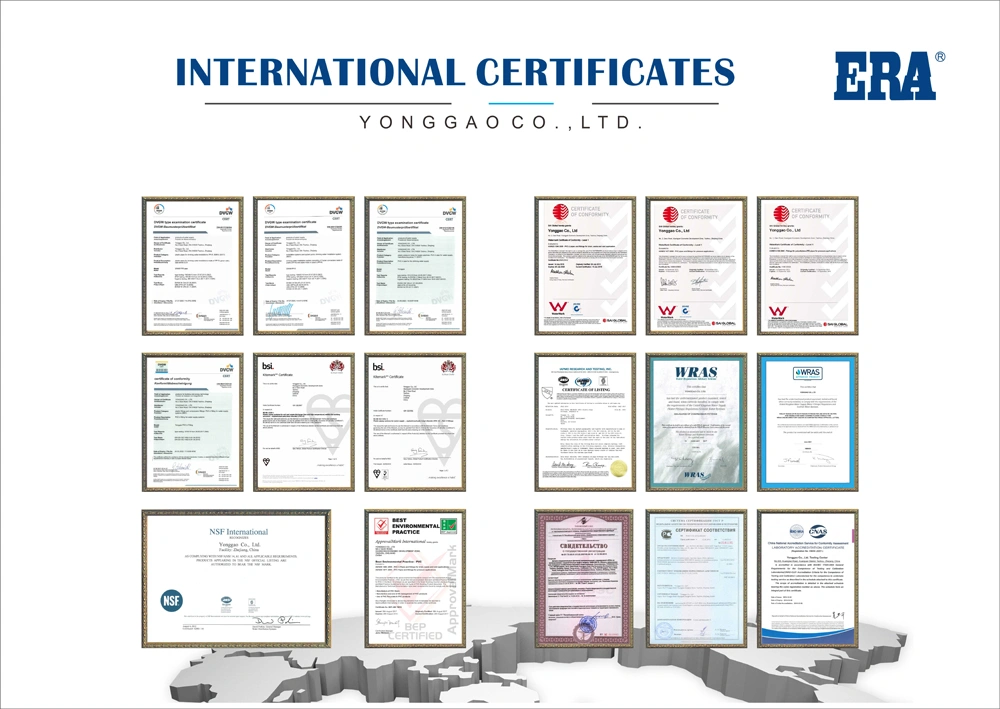 Extended information: PC material is polycarbonate material, Polycarbonate, is a colorless and transparent amorphous thermoplastic material. Very high mechanical strength, polycarbonate is colorless and transparent, heat-resistant, impact-resistant, flame-retardant, and has UL94 V-0 flame retardant performance without additives. PVC material is polyvinyl chloride material, which is currently the second largest general-purpose plastic in production and the most widely used plastic. PVC itself is also a colorless and transparent hard material, but it is much more brittle than PC, and its transparency is not as good as that of PC. Other The mechanical properties are also far from PC's.
Hot Tags:  PVC DRAINAGE FITTINGS ISO3633 REDUCING BUSH, China, manufacturers, suppliers, factory