PVC PRESSURE FITTINS WITH GASKET
ERA Piping systems,PVC Pipe Fitting,ONE FAUCET ONE FLANGE ONE INSERT REDUCING TEE, GP009,Pressure with gasket(ISO 1452),CE
System:     
PVC 1452 Pressure Pipe and Fitting with Gasket System
Rounded Edges to Minimize Stress Points
Scope:      
This series of fittings can match the standard ISO 1452
Gasket lubricant or soap makes the fittings easier to slide together.
Specification:  
Pipe and fittings shall be manufactured from virgid PVC(polyvinyl chloride) vinyl compounds.
Gaskets are matched to other DIN fittings based on the metric sizing
Company Profile
Founded in 1993, ERA is a large-scale group in China,with over 7000 employees, concerning plastic piping systems, solar photovoltaics, home electrical appliances switch, etc.
ERA Group now owns subsidiaries --Yonggao Co,Ltd, Zhejiang ERA Solar Technology Co., Ltd, Zhejiang ERA Electric Appliance Co,Ltd,and Zhejiang ERA Export and Import Co,Ltd.
Specification:
| | | | |
| --- | --- | --- | --- |
| Model Number | GP009 | Material | PVC |
| Description | PVC FITTINGS ONE FAUCET ONE FLANGE ONE INSERT REDUCING TEE | Size | 160x110-315x200MM |
| Standard | ISO 1452 | Color | Light Grey |
| Working Pressure | PN10 10Bar,1.0Mpa | Temperature | Max 60°C / 140°F |
| Connection | GASKET | Certificate | CE |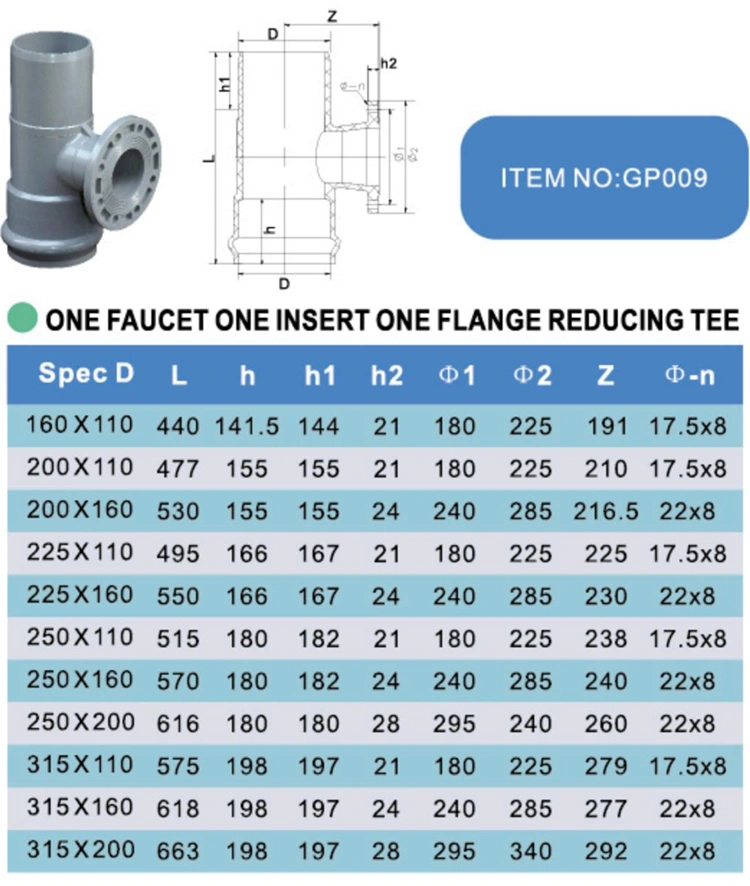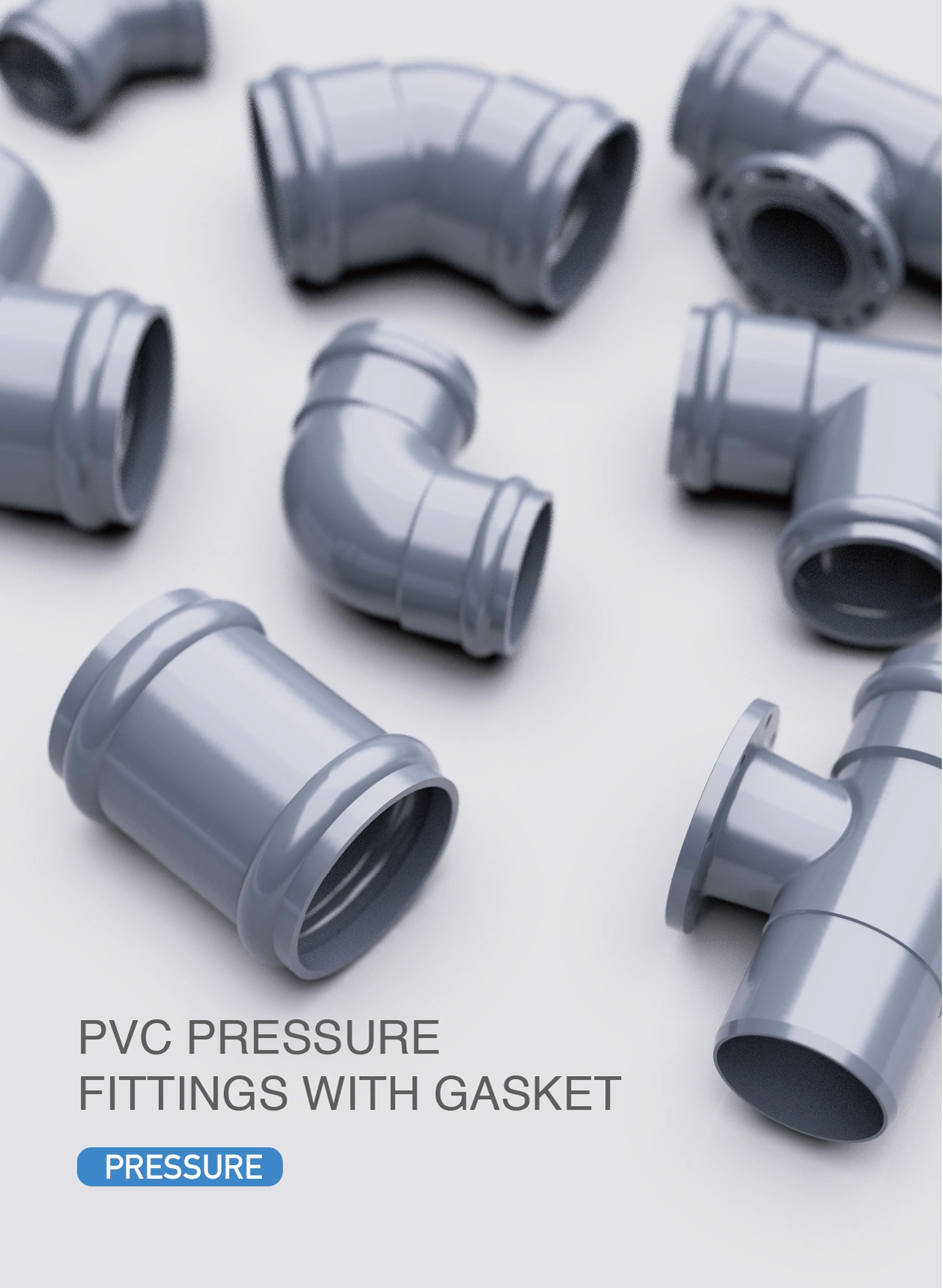 Main Products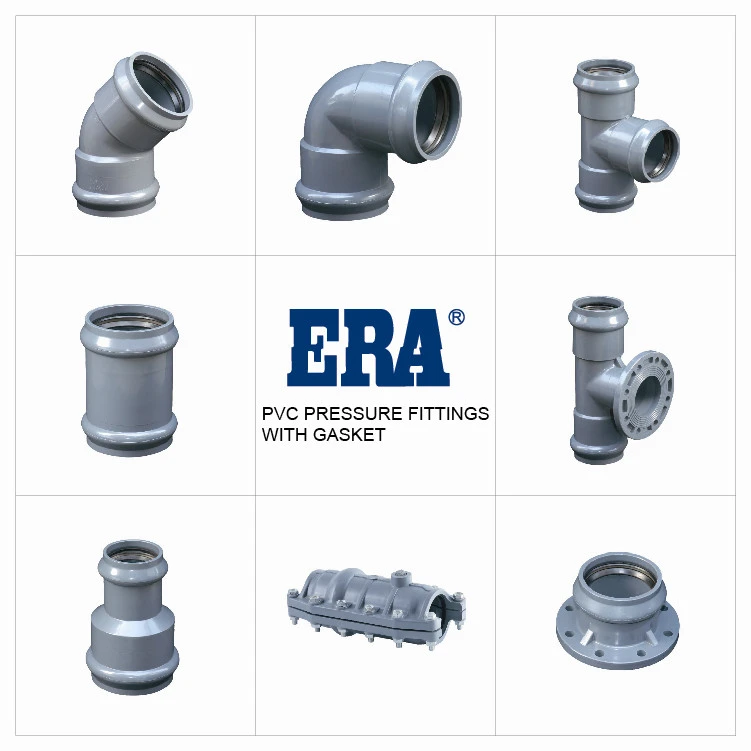 Company introduction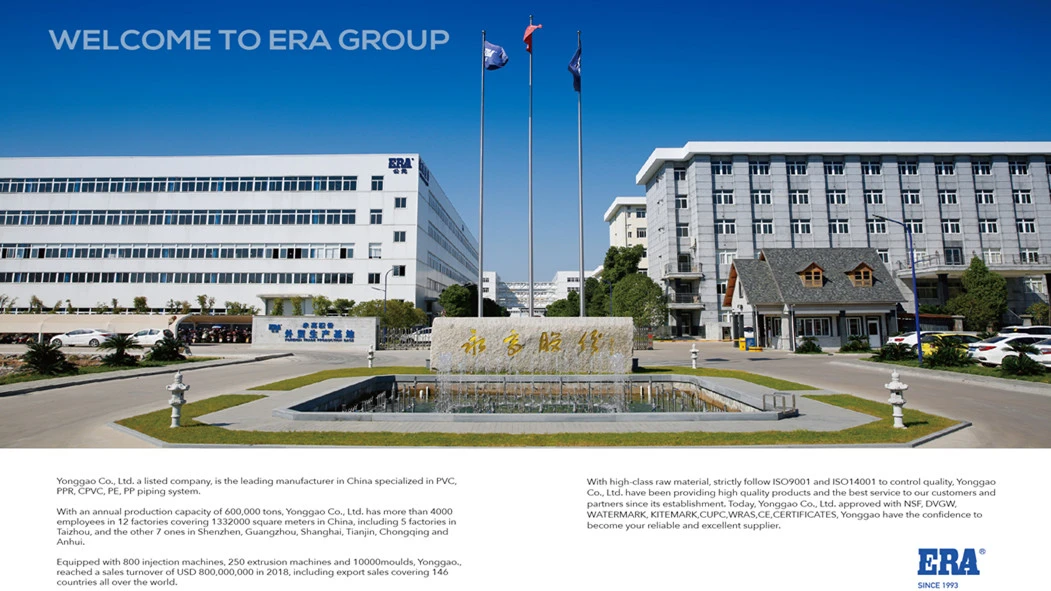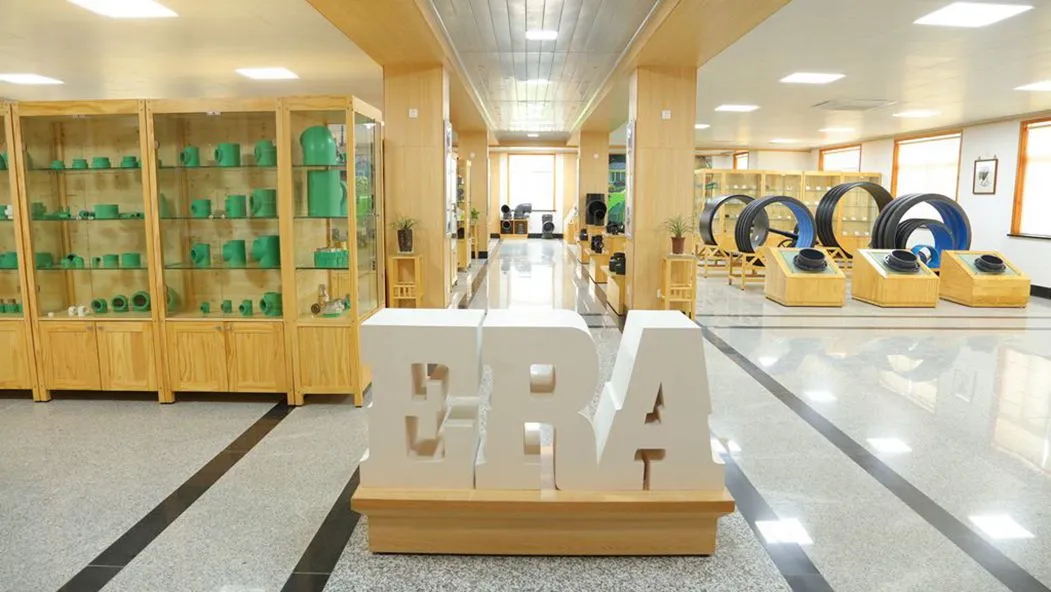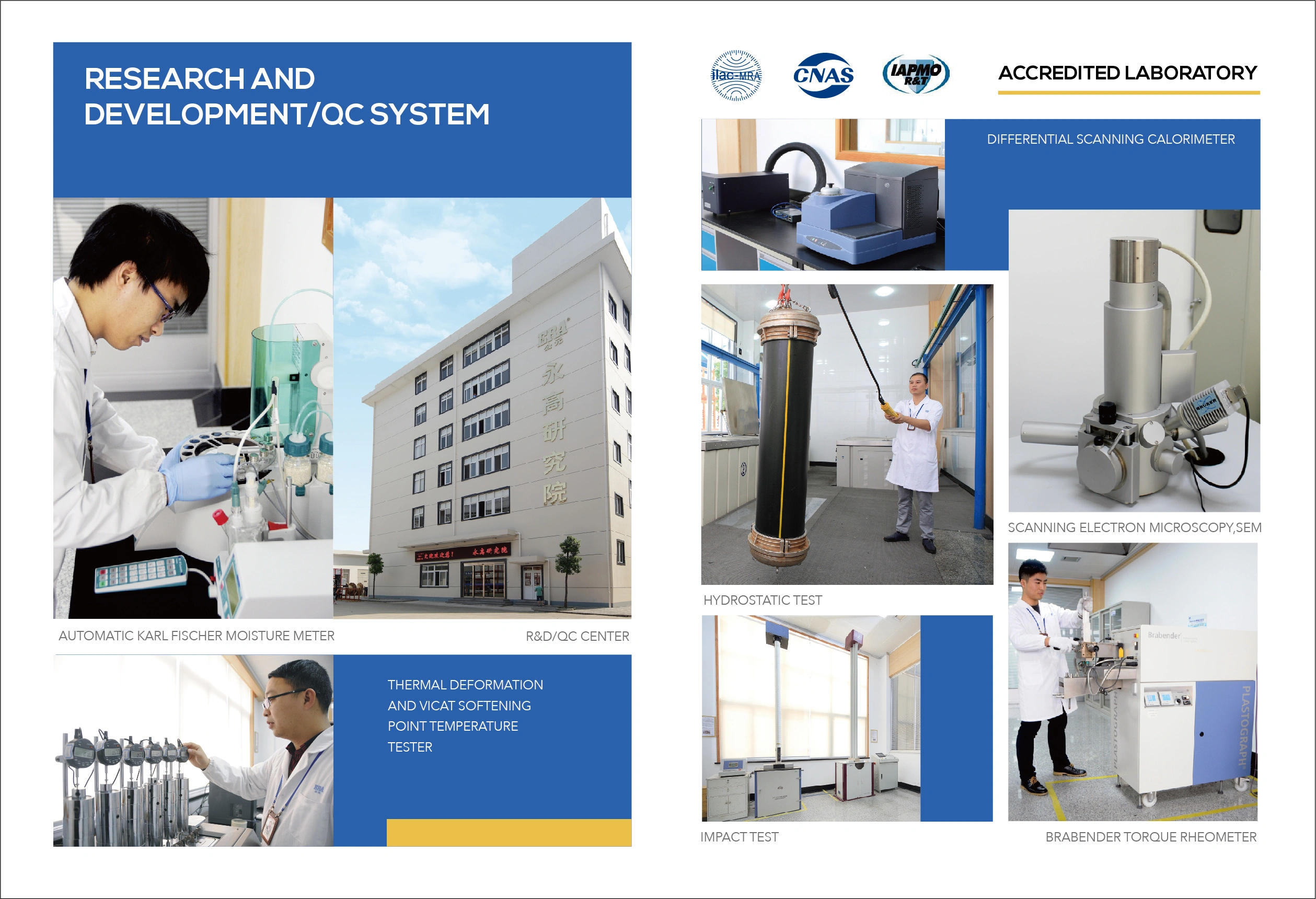 Certificate exhibition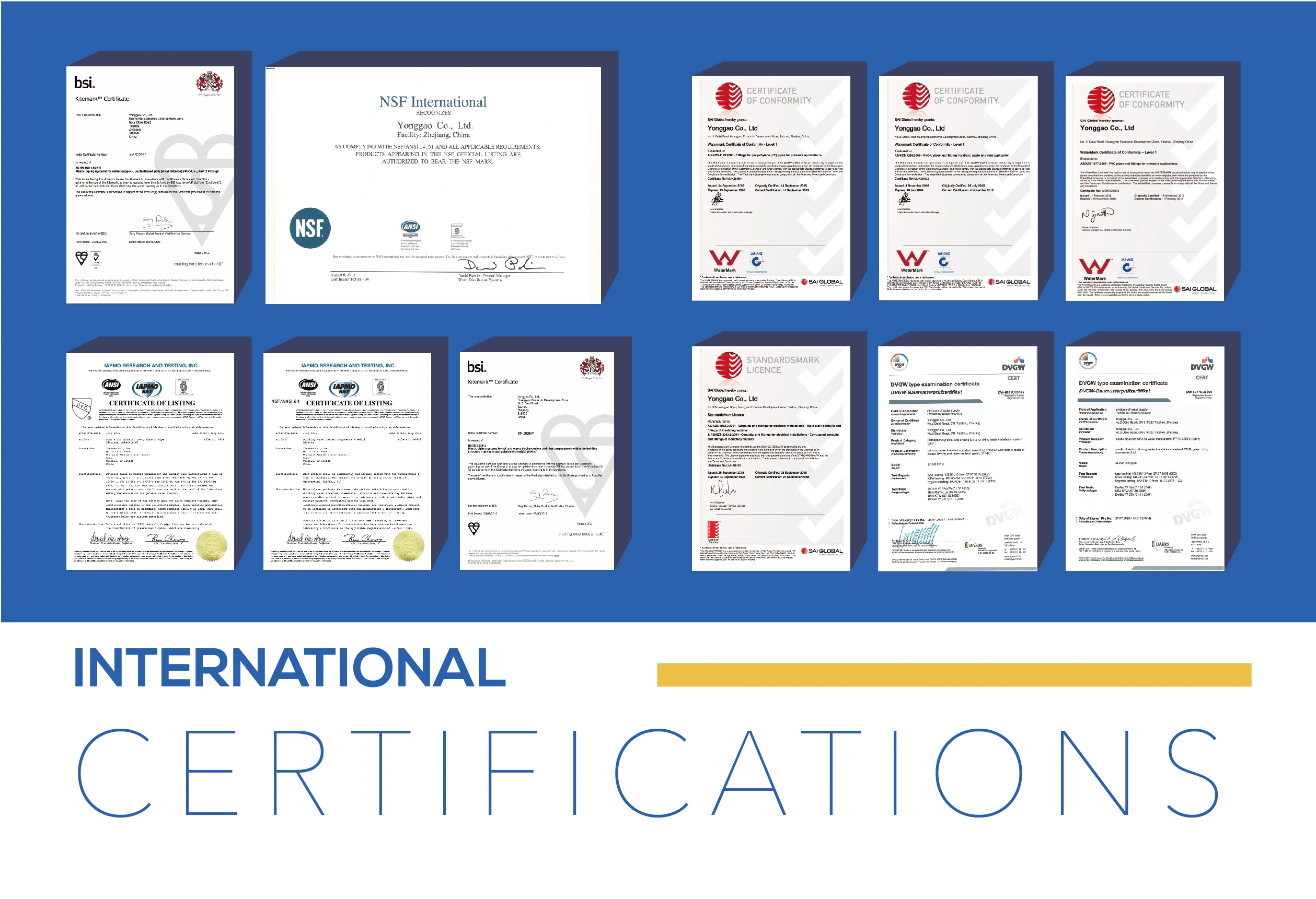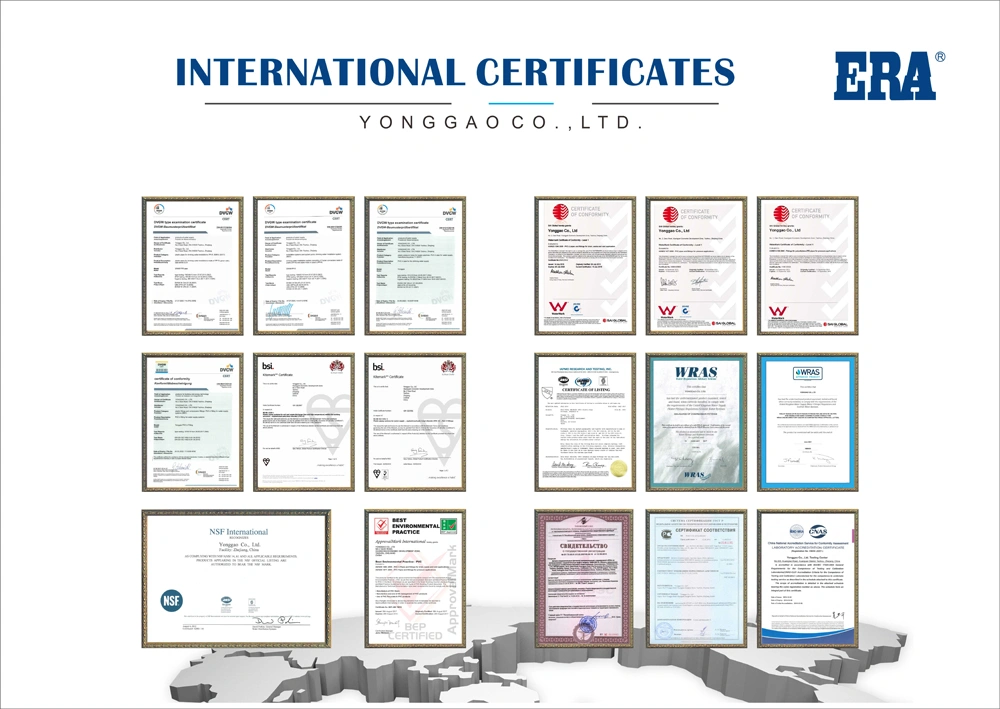 PVC drainage pipe fittings mainly include: straight through (pipe hoop), 90-degree elbow, 90-degree elbow (with mouth), downstream tee, reducing tee, 45-degree oblique tee, 45-degree reducing oblique tee, Plane reducing cross, 45 degree reducing diagonal cross, reducing three-dimensional cross, riser inspection port, downstream cross, right-angle three-dimensional cross, riser inspection port, simple expansion joint, expansion joint, large and small head, ventilation Cap, reducing sleeve, H-type pipe, eccentric reducing sleeve, anti-leakage ring, threaded expansion joint, toilet interface, square rainwater bucket, round rainwater bucket, P-type trap, S-type trap, simple Floor drains, round water-sealed floor drains, cleaning ports, PVC pipe clamps...
Hot Tags:  PVC PRESSURE FITTINGS WITH GASKET ONE FAUCET ONE FLANGE ONE INSERT REDUCING TEE, China, manufacturers, suppliers, factory