CPVC CTS PIPES AND FITTINGS
ERA Piping Systems, CPVC Pipe Fitting ,  REDUCING TEE ,CPAS02, CTS (ASTM 2846) , NSF-pw & UPC 
Scope:  This specification covers Copper Tube Size (CTS) CPVC manufactured to standard dimensional ratio (SDR) 11 for hot and cold domestic water distribution. This system is intended for pressure applications where the operating temperature will not exceed 180°F at 100psi.
LISTINGS - NSF/ANSI Standard 14:
Plastics Piping system Components and Related Materials. Includes /ANSI Standard 61, Annex G
CPVC applications are for potable water distribution, corrosive fluid handling in industry, and fire suppression systems.
CPVC pipe for plumbing systems is manufactured by extrusion in sizes ¼"through 2"copper tube size (CTS) dimensions.  
Headquaters:  Yonggao Co,Ltd is located in Shuangpu Village, Huangyan East City and Economic development zone ,Taizhou, with an area of 133,000 ㎡.
In the meanwhile, Yonggao Daixi,Yonggu,Baishi Wang,Jiangkou,Jinnuo Factory areas in Huangyan cover totally 200,000.
Specification:
| | | | |
| --- | --- | --- | --- |
| Model Number | CPAS02 | Material | CPVC |
| Description | REDUCING TEE | Size | 3/4''x1/2''-2''x1 1/2'' |
| Standard | CTS / ASTM D2846 | Color | Ivory color |
| Brand | ERA | Temperature | Max82.2°C / 180°F |
| Connection | Socket or Thread | Certificate | NSF、UPC |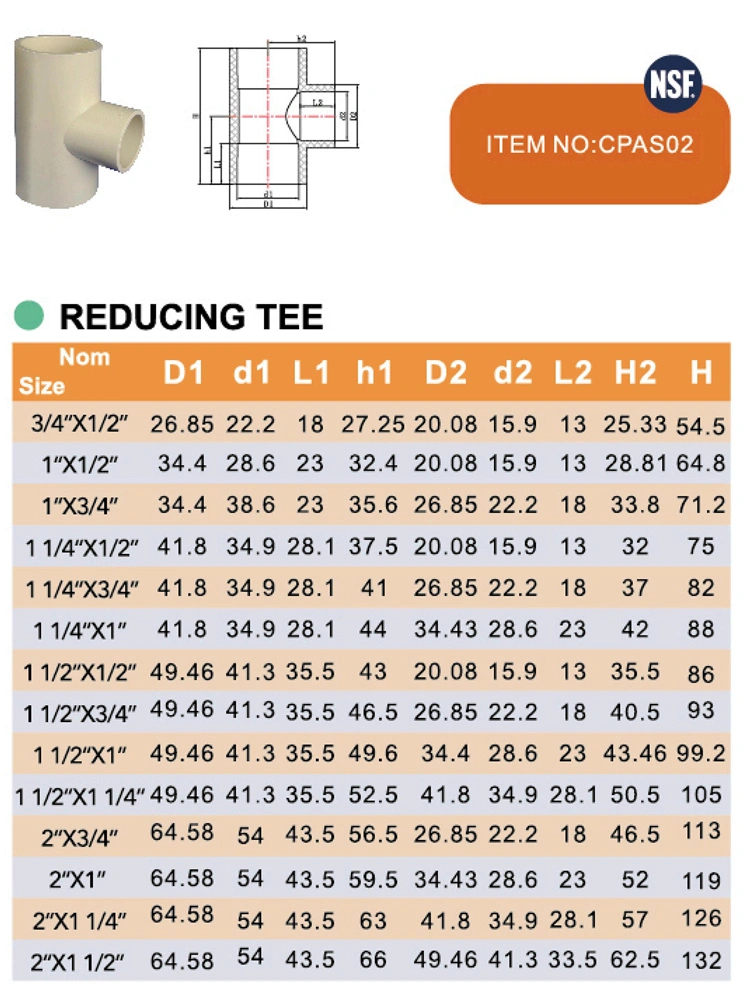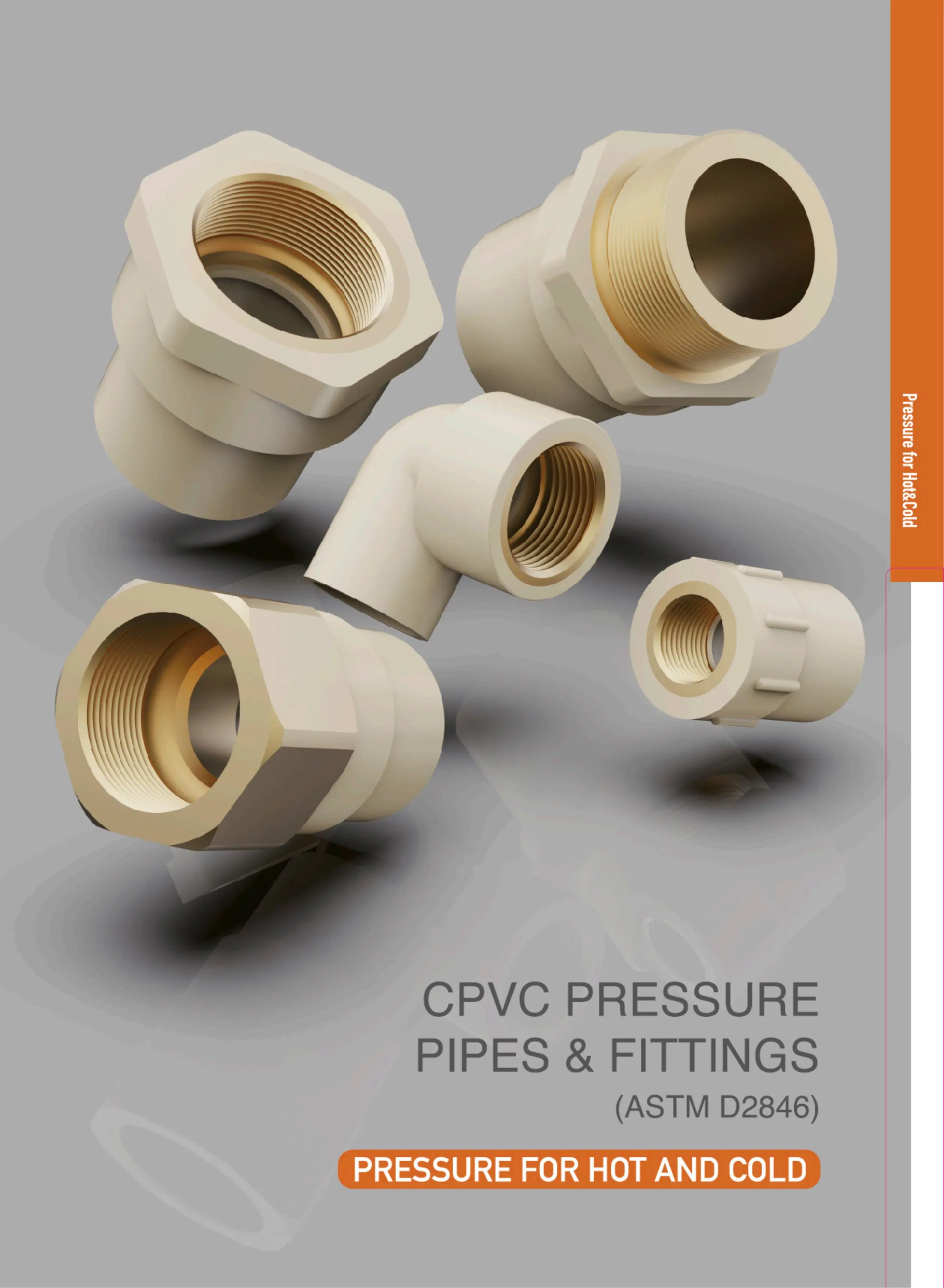 Main Products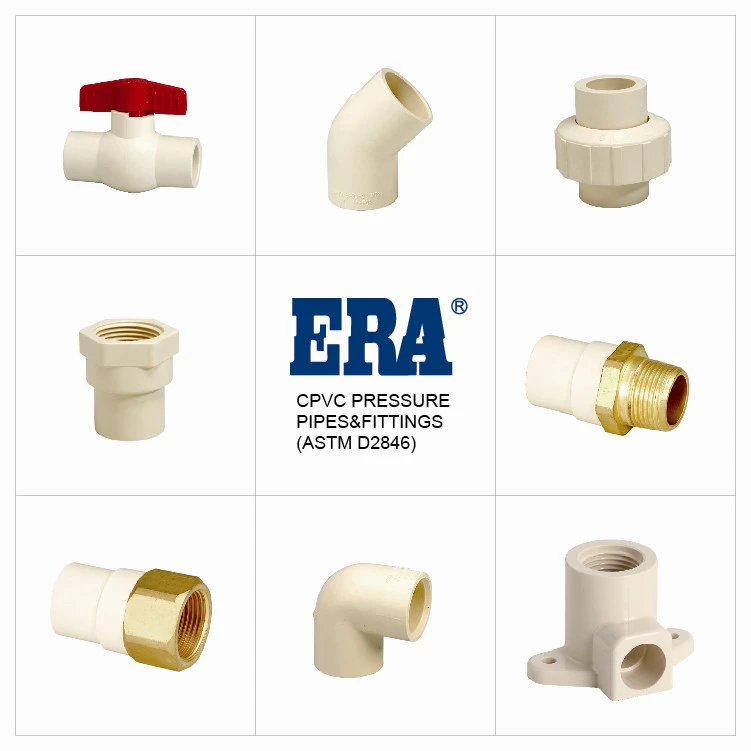 Company introduction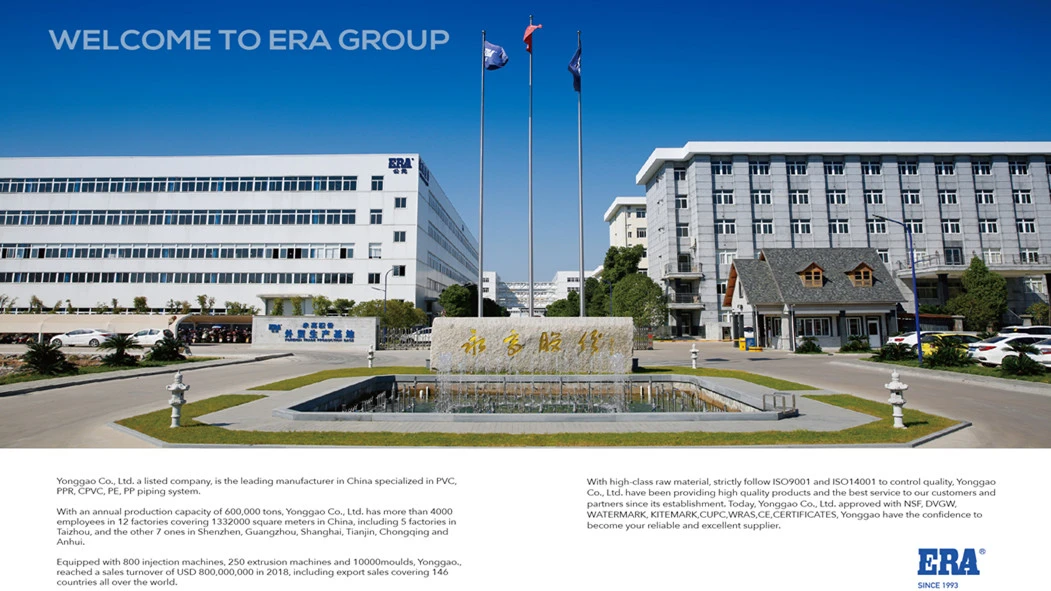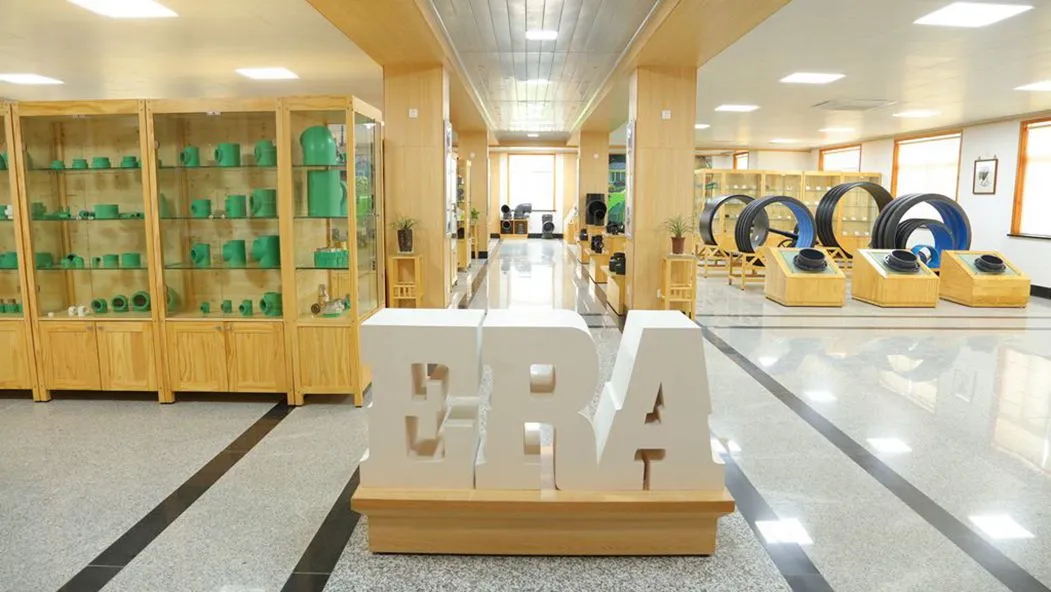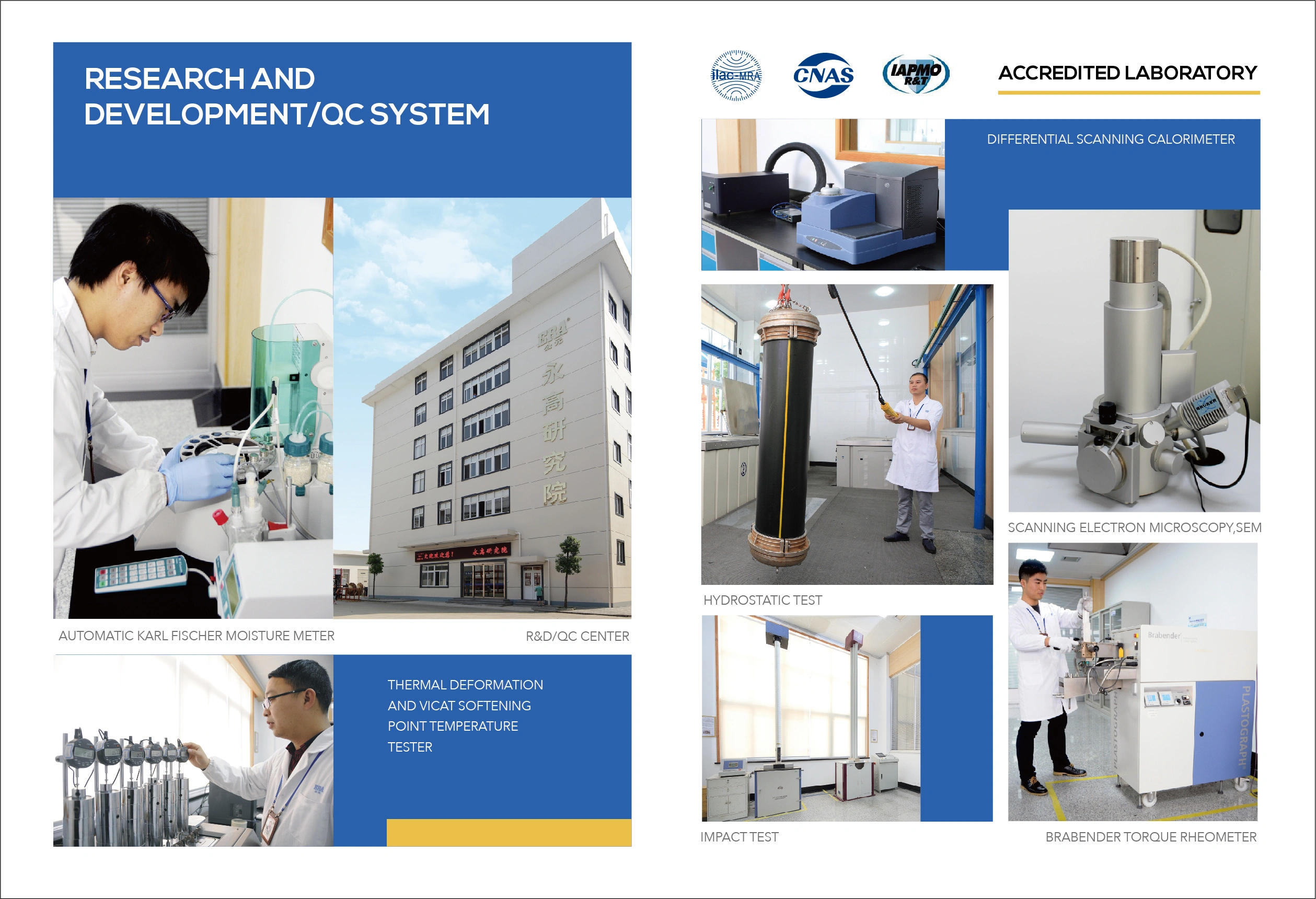 Certificate exhibition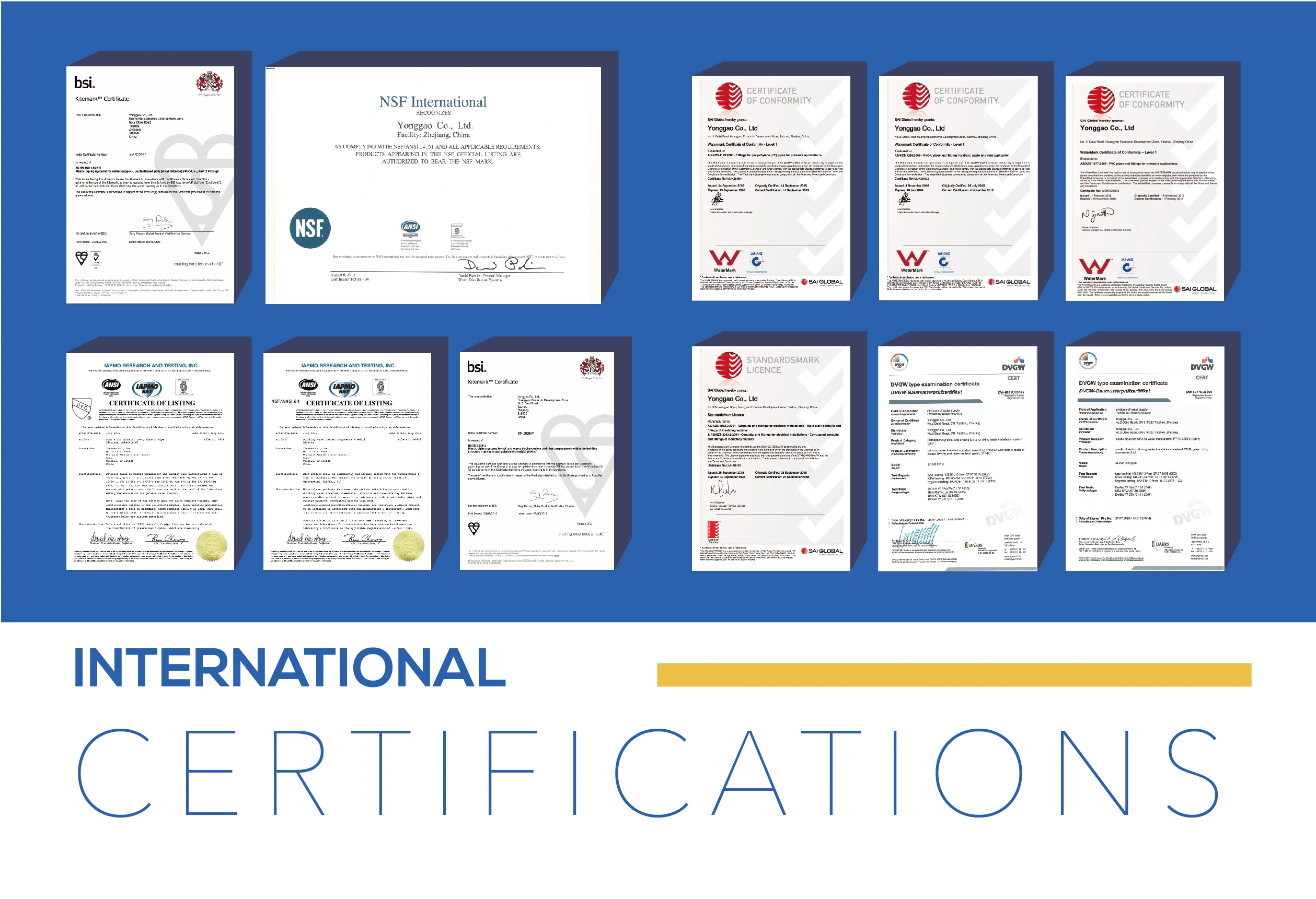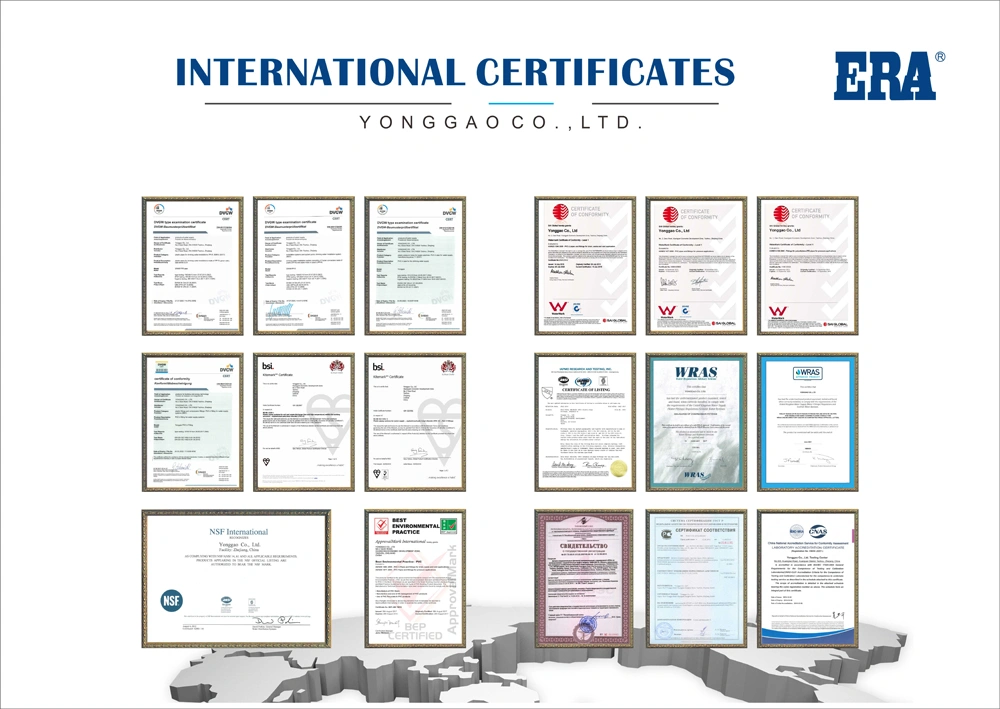 Performance characteristics
1, material characteristics CPVC power tube to heat resistance, excellent insulation performance of PVC-C resin as the main material, CPVC products are currently recognized as green products, its excellent physical and chemical properties are more and more attention by the industry. CPVC power tube is hard straight solid wall tube, the inner and outer walls are smooth and flat, the color is orange red, the color is bright and eye-catching.
2, heat resistance performance CPVC power tube than the ordinary UPVC double-wall bellows heat resistance temperature increased by 15℃, can in the environment above 93℃, maintain no deformation, and has enough strength.
3, insulation performance CPVC power tube can withstand more than 30,000 volts of high pressure.
4, compressive performance CPVC power pipe after material modification, the product ring stiffness reached 1Okpa, significantly higher than the relevant national departments for buried plastic pipe, its ring stiffness should be above 8kpa.
5, high impact strength CPVC power tube at 0℃ temperature can withstand the impact of 1kg hammer, 2m height, fully reflects the low temperature impact performance of the material is fully applicable to the requirements of construction environmental conditions.
6, flame retardant performance PVC and PVC-C materials have good flame retardant performance, can be extinguished from the fire. In particular, PVC-C material, because of its chlorine content is significantly higher than PVC, so the flame retardant and smoke density index has been significantly improved.
7, installation performance CPVC power pipe light weight, high strength, simple construction laying method, can realize night excavation buried, backfill road surface, can be open to traffic as usual during the day; Elastic sealing rubber ring socket connection, easy to install and connect, connection sealing performance is good, can prevent groundwater leakage, effectively protect the use of power cable safety.
8, long service life CPVC power tube material corrosion resistance, anti-aging, service life can be more than 50 years.