Our high pressure pipe is made from top-quality materials that are designed to withstand the rigors of industrial use. With a focus on strength, durability, and reliability, our pressure pipe is built to last and can withstand even the harshest conditions. Our pipe materials are specially designed to handle high pressure, making them ideal for use in a variety of industrial applications such as chemical plants, refineries, and power plants. Whether you require piping for chemical transportation or for use in high-pressure steam systems, our pressure pipe can meet the demands of your application. With its innovative design and superior materials, our high pressure pipe is the ideal choice for any industrial piping project.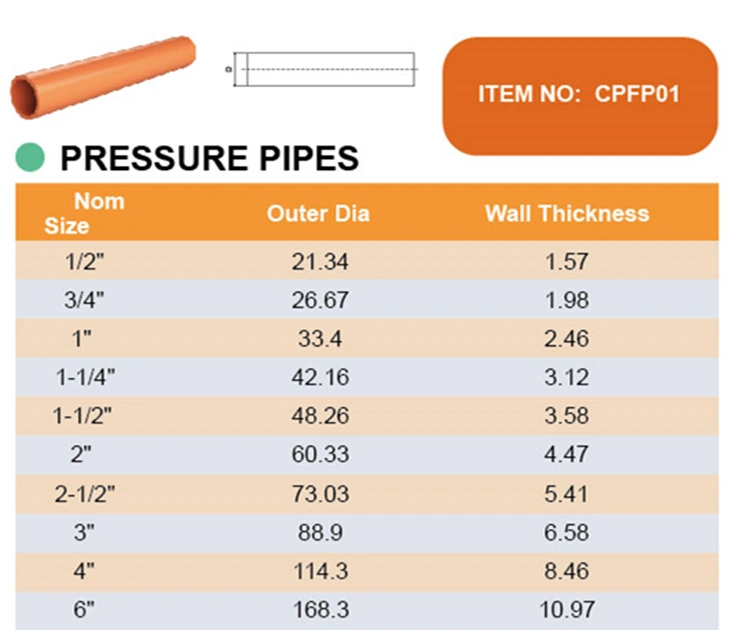 Easy to install
CPVC can reduce installation costs for many reasons. Firstly, galvanized steel pipes are very heavy. To move galvanized steel pipes, specialized equipment is required on the construction site, and the same area usually requires two or more installers to operate. The hardness of galvanized steel pipes increases the difficulty of allocating and installing galvanized steel pipes in narrow spaces. Assembly and connection systems also use welding and cutting torches and threading machines, which means that it is costly to obtain hot working permits, prefabricate components, and move residents out of their homes.
In comparison, the CPVC pipeline system is lightweight, elastic, and can be quickly connected together through a one-step chemical cold melt welding process. This reduces labor costs, as one contractor can independently complete the installation work of the entire area and achieve assembly on site.
CPVC installation generates minimal pollution and low noise, which can minimize interference to residents. The construction of the Sacramento renovation project is carried out at night, and the construction team should ensure that the construction site is cleaned up, so that the infirmary inside the building can receive regular medical attention the next morning. By using galvanized steel pipes, the cleaning workload is greater, and before the construction team finishes the night's work, the equipment needs to be repositioned.