ERA  Valves,    CPVC  TRUE UNION BALL VALVE, DIN/ANSI/NPT/BSPT/JIS/BS STANDARD, HEAVY OR LIGHT TYPE,WITH COLOR BOX, CTB01, (ASTM F1970), NSF-pw & UPC  
Ball valve, standard GB/T21465-2008"valve terminology"is defined as: the opening and closing parts (spheres) driven by the stem, and around the axis of the stem for rotating motion of the valve. It is mainly used for cutting off or connecting the medium in the pipeline, and can also be used for fluid regulation and control. The hard-sealed V-shaped ball valve has a strong shear force between the V-shaped ball core and the metal valve seat of hardfacing carbide, especially for medium containing fibers and tiny solid materials. The multi-way ball valve in the pipeline can not only flexibly control the medium confluence, diversion, and flow direction switch, but also can close any channel and make the other two channels connected.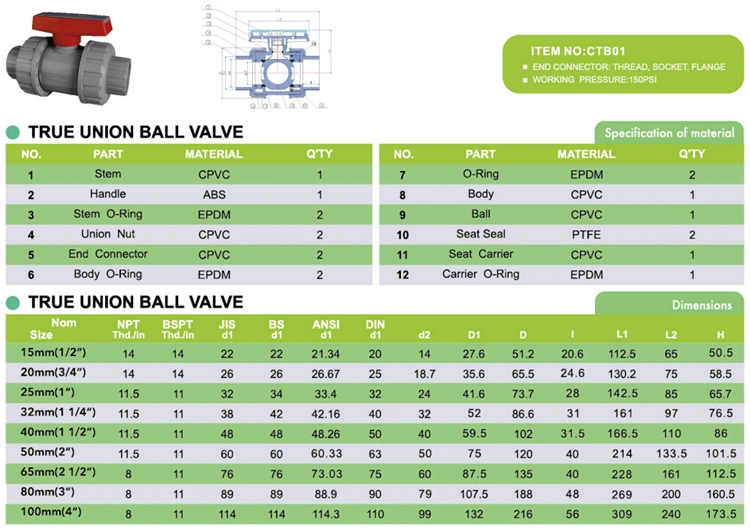 | | | | |
| --- | --- | --- | --- |
| Model Number: | CTB01 | Material | CPVC |
| Description: | CPVC True Union Ball Valve | Standard | ASTM F1970 |
| Temperature: | Max 82.2℃ /180℉ | Working Pressure: | PN10 ,10Bar, 1.0Mpa |
| Size: | 1/2''—4'' | Certificate: | NSF/UPC |
| Connection: | Socket or Thread | Color: | Light Grey |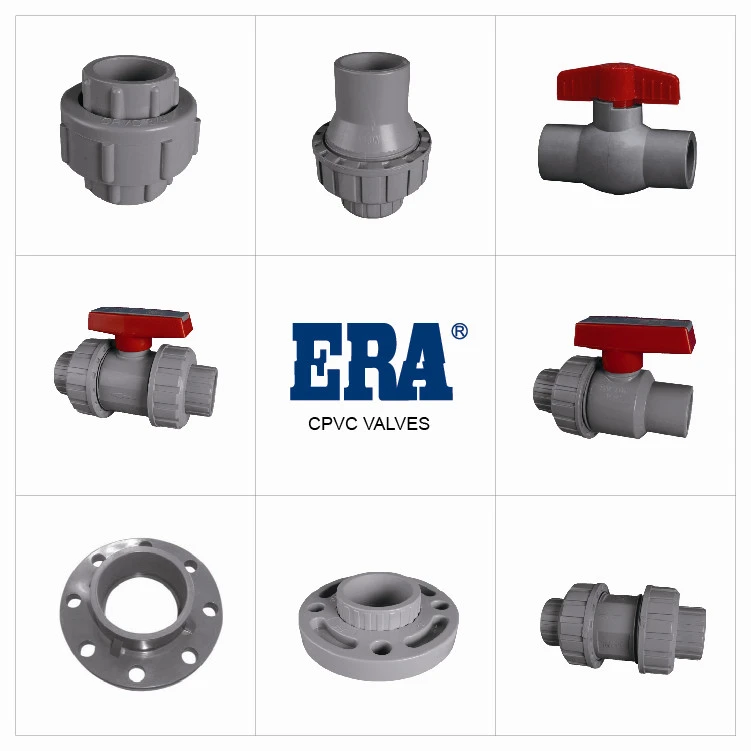 Scope:This specification covers CPVC valves for pressure applications. This system is Intended for pressure applications where the operating temperature will not exceed 180°F, and work pressure is 1.0 MPa (PN10)
The CPVC Solvent-Weld Ball Valve can be used for various applications such as: water supply, building, housing, factory and marine equipment, water and waste treatment, chemical plants, agriculture, irrigation, and multiple industrial uses.
Specification: CPVC valves shall be manufactured from virgid chlorinated poly(vinyl chloride).
Large port allows maximum flow and minimum pressure drop or turbulence. Suitable for hot or cold water systems.