ERA  Valves,   CPVC SINGLE UNION SPRING Check Valve , CSU02, (ASTM F1970), NSF-pw & UPC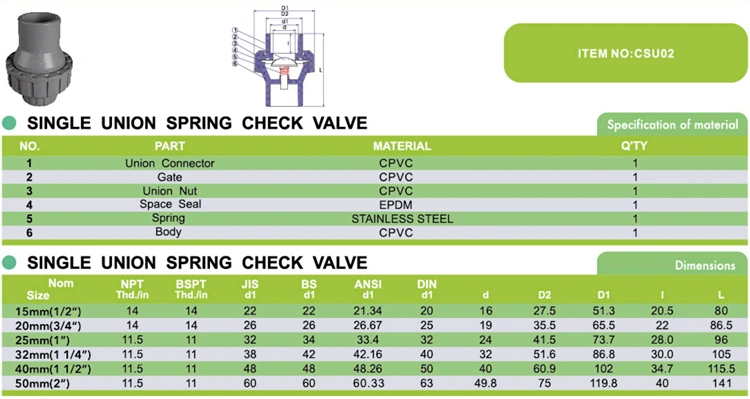 Specification:
| | | | |
| --- | --- | --- | --- |
| Model Number: | CSU02 | Material | CPVC |
| Description: | Single Union Spring Check Valve | Standard | ASTM F1970 |
| Temperature: | Max 82.2℃  / 180°F | Working Pressure: | PN10 10Bar 1.0Mpa |
| Size: | 1/2''--2'' | Certificate: | NSF/UPC |
| Connection | Socket & Thread | Color: |    Light Grey |
System:    
Do not use or test with compressed air or other gases
A CPVC ball valve is an excellent tool for easy open and closed control of water flow, as well 
Scope:     
Our TUBVs are top quality with easy-to-remove union ends for valve servicing.
The CPVC Solvent-Weld Ball Valve can be used for various applications such as: water supply, building, housing, factory and marine equipment, water and waste treatment, chemical plants, agriculture, irrigation, and multiple industrial uses.
Feature:
The PVC ball valve is mainly used to cut off or connect the medium in the pipeline, and can also be used for the regulation and control of the fluid. Compared with other valves, it has the following advantages. 1. Small fluid resistance, ball valve is the smallest fluid resistance among all valves, even the reduced diameter ball valve, its fluid resistance is quite small. The UPVC ball valve is a new material ball valve product developed according to the needs of various corrosive pipeline fluids. Product advantages: the valve body is light in weight, strong in corrosion resistance, compact and beautiful in appearance, light in weight and easy to install, strong in corrosion resistance, wide application range, hygienic and non-toxic material, wear-resistant, easy to disassemble, simple and easy to maintain .
In addition to PVC plastic materials, plastic ball valves also include PPR, PVDF, PPH, CPVC, etc. PVC ball valve has excellent corrosion resistance. The sealing ring adopts F4. Excellent corrosion resistance and extended service life.